A huge banner has been touring the UK and has been pictured at various centres and outdoor locations.
The aim is to highlight how important it is to protect the outdoor education sector and urge the Government to change its guidance to allow overnight residentials to go ahead.
Where has the poster and message been promoted? Take a look at the gallery below…
The sector has warned that unless the Government lifts the current ban on residential school trips soon, many providers will be forced to close with even more jobs lost.
This will mean that future generations will miss out on access to such experiences because there will be fewer providers.
More than 16,000 people have now signed a petition to ask the Department for Education to change its guidance and allow overnight educational visits.
Special edition of School Travel Organiser magazine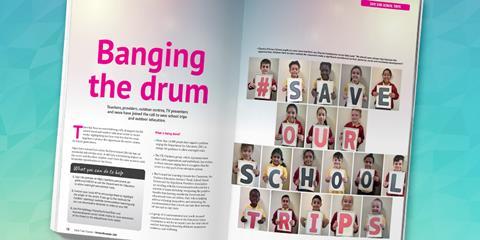 Because readers and providers demonstrated such support for the campaigns we created a special front cover for our October / November edition.
Click to see the digital E-magazine
Plus, there was more coverage to the cause inside the magazine with some of the many photos we've received from teachers, school tour operators, outdoor education centre staff featured.