Residential visits can go ahead in England with schools now able to book future trips, the Government has confirmed.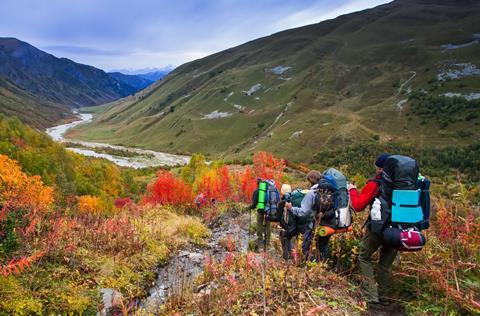 In the updated guidance on educational visits, the Department for Education confirmed that residential visits were permitted from 17th May, in line with the Government's roadmap, subject to certain conditions.
Speaking at the Downing Street press briefing on Monday 10th May, the Prime Minister Boris Johnson said that restrictions on residential school visits would be eased adding: "Everyone will be able to travel within Britain and stay overnight, meaning schools will also be able to organise trips with overnight stays."
Evie Walker, campaign organiser for #SaveOutdoorEd said: "We are very pleased that the English government has made sensible provision for residential trips to go ahead this summer term.
"All we've wanted is to be able to run safe, meaningful residentials that are such an important part of young people's education, and this guidance allows centres to provide this. However, this is only guidance for England, and it's key for both young people and centres across the UK that the governments of Wales, Scotland and Northern Ireland deliver comparable guidance to ensure that all children across the UK can have access to the amazing outdoor experiences that our sector provides."
More details for schools planning residential visits
The DfE has said that the visits must be conducted in line with relevant Covid-19 guidance and regulations in place at that time and that children should be kept within their bubbles for the visit.
Read the full guidance on residential and day visits here.
It has also said that schools can book future UK-based residential trips but they are advised to ensure that any new bookings have adequate financial protection in place.
Where are you planning to take your students?
We'd love to hear about your upcoming trip plans, please leave your comments below.
Day trips have been allowed since 12th April, in line with the roadmap, and teachers are advised to undertake full and thorough risk assessments for all educational visits.
Some of the reaction on social media
Good to see that @educationgovuk guidance now out for educational visits & residentials says schools should use @CLOtC quality badge holders. Good luck to all you brilliant castles, camps, aquariums etc. Our kids NEED the adventure back. 🙏🧳🌳 https://t.co/z3U0cPQYNT pic.twitter.com/E1NU5w2dIY

— Kim Somerville (@KimSomerville) May 11, 2021
Latest @educationgovuk guidance re educational residentials (England only):

☑️ UK-based residentials can go ahead
☑️ Schools can book residential trips for the future
☑️ Schools can use credit notes
❌ No overseas trips before 5 Sept 2021

Full guidance: https://t.co/fOpcB0Byyq pic.twitter.com/YrdpKz4Sz4

— School Travel Forum (@STF_Forum) May 11, 2021
For schools & residential providers @educationgovuk guidance on overnight schools trips at p47 & annex C.
Job of work for us all now on getting as many kids as possible onto school trips & stays over the 18 months ahead. This has to be collective effort.https://t.co/Z5j5dxkWJd

— Anita Kerwin-Nye (@anitakntweets) May 10, 2021

What about trips abroad?
The DfE has said it recommends that schools do not go on any international visits this academic year, up to and including 5th September, 2021. It said the position will be reviewed in advance of Step 4 of the roadmap which is 21st June when the Government hopes to remove all legal limits on social contact.
Schools with ATOL and ABTA refund credit notes can use these to rebook educational or international visits.