How to become an official award partner, support the School Travel Awards and get amazing exposure to people organising school trips and educational travel.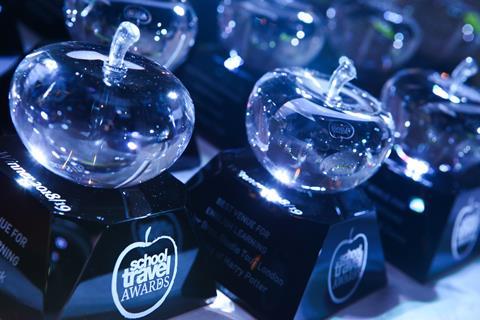 The School Travel Awards are organised by the team at School Travel Organiser magazine and recognise the best venues, attractions and companies for school trips, as well as shining the spotlight on people and schools that embrace learning outside the classroom.
Awards Partner packages provide a high profile and cost-effective way to promote your business or venue over a nine-month period, and to be involved in one of the most successful high profile educational initiatives in the UK schools calendar.
What do you get as an Award Partner?
As a category partner, you get all this…
Free table for 8 persons at the prestigious Awards Ceremony and Luncheon.
Your logo in every edition of School Travel Organiser, from the launch of the awards to the review.
Logo included within the voting promotional features in the magazine.
Logo included in a range of e-marketing promoting the event and asking readers to vote and enter.
Free page advert and full branding with logo in the special Awards Review included with the March / April 2021 edition of School Travel Organiser.
You, as a presenting partner of a category, will announce the winner and present the trophy and certificate on stage during the luncheon together with our special celebrity guest.
Logo in Awards lunch programme / menu.
Logo included on the video screen at the lunch during rolling credits and when the category you are presenting is announced.
Your category partnership announced from the stage by the presenter.
Inclusion in School Travel Organiser's photo review following the Awards lunch, pictured with the winner of the category you have supported.
Inclusion in the website photo gallery which goes online shortly after the Awards ceremony.
Plus, you will be free to use the official partner logo to show everyone you are supporting these important awards.
A special thank you to our 2020/21 Awards Partners…

The School Travel Awards is the most important annual initiative of its kind. It is without doubt the most prestigious and cost effective branding promotion with regular frequency you can obtain throughout the year.
Over the period you will have exposure to thousands of high spending schools through the magazine plus many thousands visiting the online School Travel Organiser e-magazine edition, its website and the regular e-newsletter.
The annual lunch ceremony for the School Travel Awards will provide a fantastic way of entertaining clients, suppliers, staff or friends in superb surroundings - included in the price.
For full information on the School Travel Awards and the sponsorship opportunities contact Sophie Kench now on 01908 613323 or click the button below to send us an enquiry.