The 'My Best School Trip' Award is open to both Primary and Secondary schools to enter and comes up with a £1,500 prize to spend on a future school trip.
Pupils submit their reviews of a school trip, accompanied by a narrative from the teacher about the objectives of the trip and what was achieved. Entries are then shortlisted with the finalists judged by a panel of experts.
Entries for 2019/20 will open in due course, but in the meantime, schools are encouraged to think about the school trips they have organised recently, or are going on in the near future, as possible entries. For any more information, contact the Editorial Team at the School Travel Organiser Magazine by emailing editorial@schooltravelorganiser.com or calling 01908-613323.
The 2018/19 winner
The winner of last year's 'My Best School Trip' Award was Moorside Primary School from Lancaster for their Year 1 residential to FSC Malham Tarn.
Collecting the award at the School Travel Awards on 16th November, 2018, was Jonathan Whitwell who took his Year 1 group on a winter residential.
The trip to the Field Studies Centre in the Yorkshire Dales was both fun and educational, tying in with the curriculum and supporting his pupil's study topic of winter. Pupils investigated hibernation and learnt how to follow maps.
Teacher Jonathan Whitwell sent in entries written by Year 1 pupils about their experience of the winter residential, which was a pilot visit by the school.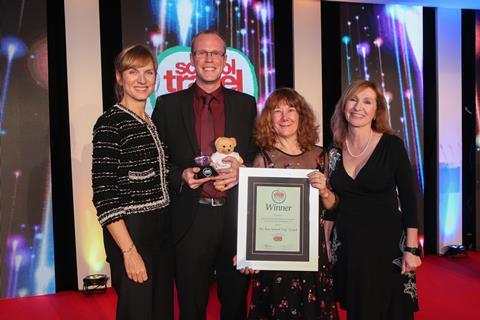 Fiona Bruce presents the award to Jonathan Whitwell & Bev Forbes from Moorside Primary along with Anne Lean of category partner Warner Bros. Studio Tour - the Making of Harry Potter.
The award is open to teachers of Key Stages 1 to 4 and recognises educational visits that achieve their objectives and give children a rich and rewarding experience.
The finalists for 2018/19 were:
BBG Academy (part of the Rodillian Multi Academy Trust), Birkenshaw (Year 7 French Resilience Trip)
Llanwern High School, Wales (Year 11 – 13 trip to Kenya)
Lyndhurst Primary School, London (Year 4 trip to York)
Nelson Mandela School, Birmingham (Year 5 trip to Dovedale in Derbyshire)