This award shines a spotlight on teachers and EVCs for the important role they play in organising trips that help their school and pupils benefit from learning outside the classroom.
The School Trip Champion Award highlights the work and effort put in by real unsung heroes, and recognises those who go the extra mile.
The winner is able to spend £1,500 on a future educational visit for their school.
Your 2023 winner is…
Karen Tidmarsh - Winchmore School, Enfield, London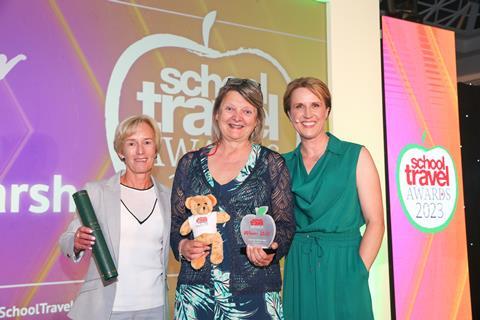 After decades of teaching geography and PE and then becoming head of year, Karen retired from teaching in 2021 and was appointed school travel coordinator at Winchmore – a post created by the headteacher who simply didn't want to lose her expertise.
In recent years, there has been a focus on re-engaging students with the outside world and ensuring they experience 'life beyond the M25'. In her first year in the post, Karen has managed to get more than half of the school community out on either a day or residential visit, and recently returned from a back-to-back ski trip involving over 70 students for the first time since the pandemic.
Karen told us: "Learning outside the classroom has always been my passion and bringing the page to life for students."
Congratulations to our other 2023 School Trip Champion finalists who were:
Selwyn Boothe - Gunnersbury Catholic School, Brentford, Middlesex

Jo Hilson - Thomas Gainsborough School, Subury, Suffolk

Michele Vidler - Potters Gate CofE Primary School, Farnham, Surrey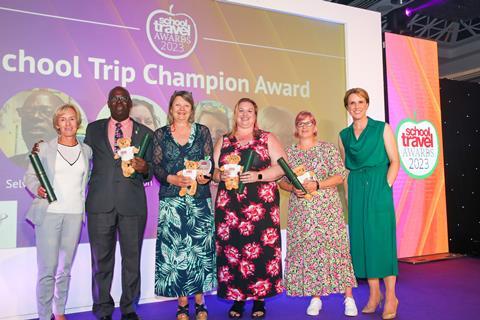 Find out more about the 2023 winner and finalists in our special feature here.
Karen was announced as the 2023 School Trip Champion at the School Travel Awards ceremony which took place on Tuesday 6th June at the Royal Lancaster Hotel London.
Find out how the ceremony went, along with all the winners, here.
Stay up to date with the School Travel Awards and all the other content from School Travel Organiser by subscribing to the free email newsletter via this link.