A special category that rewards those who play an important role in organising trips that help their school and pupils benefit from learning outside the classroom.
The School Trip Champion Award highlights the work and effort put in by real unsung heroes, and recognises those who go the extra mile.
The 2022 winner and finalists
We think you will agree that we had some very special people in the running once again for the 2022 award. You can read all about the amazing work they do by clicking here. A huge thank you to everyone who voted.
The winner of the 2022 award was Sue Dutton of Sherbrook Primary School in Cannock, Staffordshire.
Sue has worked there as class teacher for 15 years and been central to the school's commitment to school trips and learning outside the classroom. She was presented with the award at the 2022 School Travel Awards ceremony which took place on 25th May in London. Sue also secured a £1,500 prize for the school to spend on a future educational visit.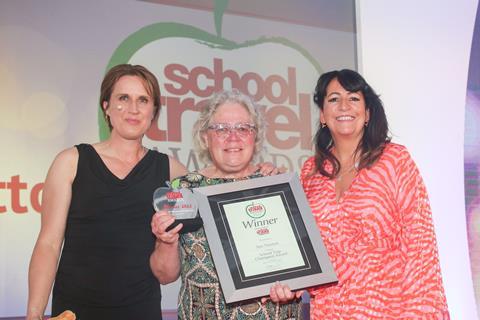 Sue told us: "I was totally shocked and stunned to be announced as the winner with such a strong field of finalists. I cried all the way to the stage and got a standing ovation from the crowd, which was amazing. I was totally overwhelmed and couldn't speak.
"Sherbrook Primary School has been working hard over the past 13 years to develop their LOtC and their learning beyond the classroom. We have an amazing team of staff who work very hard to give the children wonderful experiences. My role in this has been to encourage, facilitate, train and support the staff in this area. We all understand the benefits of hands-on learning, especially for our children as they have a diverse range of special needs. My passion is learning outside, and I have also helped the school to achieve the Gold award for LOtC.
"I took my teachers pension in December 2021 and then returned to Sherbrook in January 2022 just to teach forest school and outdoor learning for two days a week. It's the most wonderful and rewarding job ever. The faces of the happy children who run down to the outdoor classroom each week makes my day."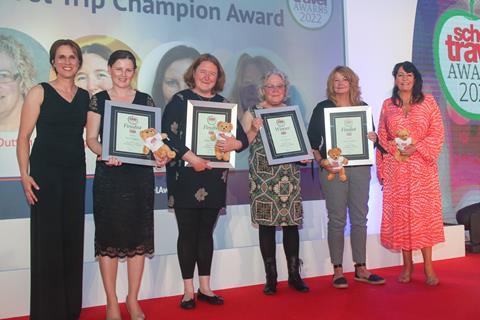 Sue was one of four amazing finalists who do so much to ensure children have experiences beyond the school gates.
Again, we found a very worthy winner but we want to applaud all of our other 2022 finalists:
Abigail Hopper, Nightingale Primary School, Hackney
Sara Taggart, The Lyceum School, Shoreditch
Tracey Walker, Ramsden Hall Academy, Billericay
Read more about your 2022 finalists
About the School Trip Champion Award and looking ahead to 2023
Each year we open the award for nominations which are made by teachers, governors, parents, pupils, as well as staff from school travel providers / attractions.
A shortlist of four candidates is then drawn up by the School Travel Organiser team who go into a public vote to decide the overall winner.
The finalists are invited to the School Travel Awards as our guests, when the winner is revealed.
Anyone involved in organising school trips and learning outside the classroom experiences is eligible – from head teachers to educational visit coordinators. But it is important to remember that this award is for people who work in or for a school and not open to staff at providers (e.g. tour operators, attractions, accommodation, etc).
Nominations for the 2023 award will open in the autumn. Stay up to date with when nominations open, general information about the School Travel Awards and all the other content from School Travel Organiser by subscribing to the free email newsletter via this link.