This award shines a spotlight on teachers and EVCs for the important role they play in organising trips that help their school and pupils benefit from learning outside the classroom.
The School Trip Champion Award highlights the work and effort put in by real unsung heroes, and recognises those who go the extra mile.
The winner is able to spend £1,500 on a future educational visit for their school.
Your 2023 finalists are…
Selwyn Boothe - Gunnersbury Catholic School, Romford, Essex

Jo Hilson - Thomas Gainsborough School, Subury, Suffolk

Karen Tidmarsh - Winchmore School, Enfield, London

Michele Vidler - Potters Gate CofE Primary School, Farnham, Surrey
The person who receives the most votes will be announced as the 2023 School Trip Champion at the School Travel Awards ceremony taking place on Tuesday 6th June at the Royal Lancaster Hotel London.
For event and ticket info click here.
Stay up to date with the School Travel Awards and all the other content from School Travel Organiser by subscribing to the free email newsletter via this link.
The 2022 winner and finalists
The winner of the 2022 award was Sue Dutton of Sherbrook Primary School in Cannock, Staffordshire.
Sue has worked there as class teacher for 15 years and been central to the school's commitment to school trips and learning outside the classroom. She was presented with the award at the 2022 School Travel Awards ceremony which took place on 25th May in London. Sue also secured a £1,500 prize for the school to spend on a future educational visit.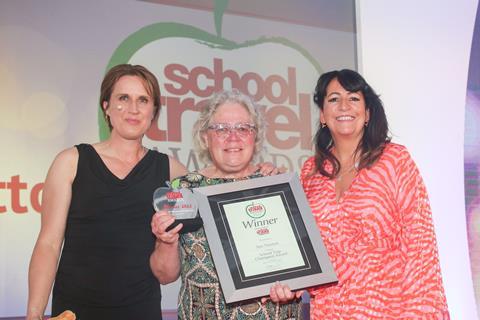 Sue told us: "I was totally shocked and stunned to be announced as the winner with such a strong field of finalists. I cried all the way to the stage and got a standing ovation from the crowd, which was amazing. I was totally overwhelmed and couldn't speak.
"Sherbrook Primary School has been working hard over the past 13 years to develop their LOtC and their learning beyond the classroom. We have an amazing team of staff who work very hard to give the children wonderful experiences. My role in this has been to encourage, facilitate, train and support the staff in this area. We all understand the benefits of hands-on learning, especially for our children as they have a diverse range of special needs. My passion is learning outside, and I have also helped the school to achieve the Gold award for LOtC.
"I took my teachers pension in December 2021 and then returned to Sherbrook in January 2022 just to teach forest school and outdoor learning for two days a week. It's the most wonderful and rewarding job ever. The faces of the happy children who run down to the outdoor classroom each week makes my day."
Sue was one of four amazing finalists who do so much to ensure children have experiences beyond the school gates.