The government has confirmed that schools can resume non-overnight domestic educational visits from September.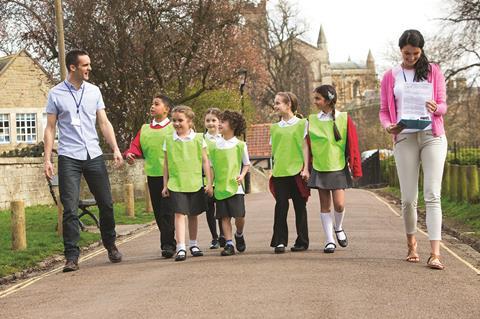 As part of its guidance for the full opening of schools, the Department for Education said while it continued to "advise against UK overnight and overseas educational visits", in the autumn term schools are allowed to go on trips in the UK as long as they don't involve an overnight stay.
It added that the visits "should include any trips for pupils with SEND connected with their preparation for adulthood (for example, workplace visits, travel training etc) and that all trips should be done with protective measures in place such as keeping children with their consistent group and the Covid-secure measures in place at the destination.
The government has also said that "schools should make use of outdoor spaces in the local area to support delivery of the curriculum". It said: "As normal, schools should undertake full and thorough risk assessments in relation to all educational visits to ensure they can be done safely.
"As part of this risk assessment, schools will need to consider what control measures need to be used and ensure they are aware of wider advice on visiting indoor and outdoor venues. Schools should consult the health and safety guidance on educational visits when considering visits."
Ian Mitchell, deputy head of Kingswood House School in Surrey welcomed the announcement and said: "It is wonderful to see that government guidance will allow us to run various day trips next term but we are proceeding with caution. Our trip programme will not be as comprehensive as usual but we hope to organise some local trips and resume our forest school for our younger students. In addition, greater emphasis will be placed using the school grounds."
What about residentials?
Anita Kerwin-Nye, director of Strategy & Engagement, YHA (England & Wales) said the charity hoped it would be able to resume residential visits in the autumn term adding: "Residentials are a core part of school life and their positive impact is well evidenced.
They are an important element of any 'catch up' programme, particularly for those children least likely to be able to access holidays or other enrichment activities over the year ahead.
"It is of course important to ensure that they can be delivered safely. The government guidance for schools, hospitality sector and outdoor activities points to how residential providers can deliver overnight stays in line with Public Health England evidence on reducing infection risk.
"At YHA we are working with schools to test how this will work in practice. YHA residentials will resume as soon as Department for Education changes its advice…indeed some schools are asking for trips over the summer holidays to support transition and we would urge government to work with the residential provider sector to open these options up as soon as possible."
The Council for Learning Outside the Classroom previously presented a plan to Ministers back in May to help schools develop their curriculum by taking their lessons beyond the classroom.
The charity brought together a consortium of associations with interest and expertise in learning outside the classroom. In her recent column for School Travel Organiser, chief executive Anne Hunt said: "By using this period to build confidence and embed a culture of learning outside the classroom, schools will be building foundations to help support a programme of progressive learning beyond the classroom going forward, which will help realise the immense benefits for pupils, schools and providers of services to schools too.
"There are very few well-evidenced interventions that offer, with almost universal availability and at very low cost, the opportunity to make such a big difference to so many children and young people."
Meanwhile the Outdoor Education Adviser's Panel has published new guidance to help teachers use learning outside the classroom to manage and adapt to the current situation.
The panel says that as well as supporting a wide range of learning outcomes, learning and play outdoors has a particular role during the Covid-19 pandemic adding: "Evidence indicates that the risk of infection is reduced outdoors and social distancing is easier to observe and maintain outside, making it easier to manage larger or multiple groups."
It outlines key considerations for schools when planning for outdoor learning such as the location, weather, equipment and hygiene.