A camping residential trip can be used to provide students with a rewarding, outdoor experience that both challenges and excites them.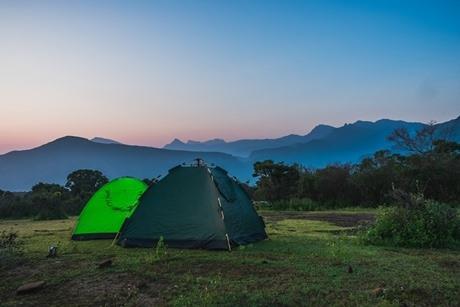 Here are a selection of camping residential trips that you could take your class on in the UK.
1. Inspire a passion for the outdoors
Big Hat Bushcamp in North Surrey aims to inspire a passion for the great outdoors, whilst developing teamwork and leadership skills. Offering both day trips and residentials, students can experience staying overnight in the woodlands of Runnymede. During a visit, pupils will be able to take part in activities such as matchless fire lighting, campfire cooking, shelter building, archery, navigation, wilderness first aid and more, for the ultimate bush craft experience.
2. Take part in a range of activities
Located just one hour from London, Walton Firs is tucked away in Surrey and offers 36 acres to explore, as well as an impressive 23 activities to choose from during a visit. Providing a hands-on experience, the site is suitable for any year group and pupils can either be accommodated on the campsite or in dormitory style huts. Activities such as archery, caving and pioneering, among many others, will help to encourage team-work, confidence and co-ordination in an outdoor setting.

3. Sleep under the stars
For a truly outdoors experience, you'll need to head to Dorset for a woodland camping residential with Cumulus Outdoors (pictured above). Students will sleep under canvas, cook over open fires and take part in a range of activities designed to send them on a journey of self-discovery. Activities could include shelter-building, bushcraft, wilderness cookery, orienteering, climbing and camouflage and concealment.
4. Take part in land and water based adventures
Inspired Outdoor Adventure does exactly what it says on the tin –inspires outdoor adventures during school trips. Teachers can choose from land or water based activities, which can be booked for either a single session or as part of a longer residential trip. Based in Marlow, Buckinghamshire, the site has access to 128 acres, which includes lakes, woodland, grass land and its own campsite. The site will work alongside you to create a trip that that complements the school curriculum and your learning outcomes.
www.inspiredadventurecentre.co.uk
5. Step back in time
Immerse your class in Prehistory, sleep in a roundhouse and journey from Stone to Iron Age during a trip to Celtic Harmony in Hertfordshire. Watch on as your students grow in confidence and develop their skills as history is brought to life before their eyes by the site's costumed educators. Students could find themselves living as an early farmer one day, before taking part in a clan challenge the next.