Looking for places to let your pupils reap the benefits of outdoor play? We look at some exciting adventure playgrounds to inspire visits this year and beyond.
The Plotters' Forest - Raby Castle
Described as an immersive outdoor adventure playground nestled in a Christmas Tree plantation north of the castle, 'close to nature' takes on a whole new meaning at The Plotters' Forest which opened in 2022.

Children can be resilient, curious and courageous in the attraction at the heart of the County Durham estate. Entering through the towering gateway, school groups can explore ground-level forest trails, then climb to high walkways and towers before creating music on outdoor instruments or matching pairs on the giant memory game.
There are fantastic views, sky-high turrets and treetop tunnels. And after working up an appetite, groups can head to the Plotters' Pantry for lunch boxes.
Hide and Secrets - Burghley House
Part of the Lincolnshire estate's grounds will open to the public for the first time after being transformed into a woodland adventure play attraction. Themed around William Cecil as the country's first spymaster, youngsters will be able to complete their own top-secret missions, discovering hidden wooden mole carvings and a spot of cypher code breaking.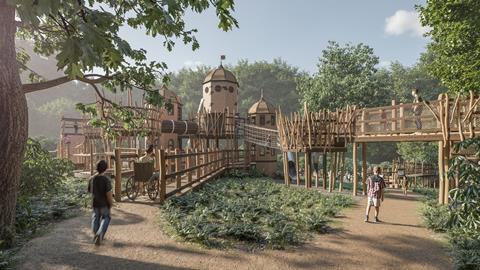 Featuring a new Burghley character, Cecil the Mole, and a series of landscaped play zones leading to the Hidden Towers with slides and a rope bridge, the attraction - which has been designed with accessibility in mind - will also have a refreshment cabin called The Muddy Mole.
Also new this year is an accessible, all-weather car park, which will increase parking capacity. Remaining free of parking fees, it will have an area for coaches.
Teachers and EVCs can choose from a range of educational activities designed to link with National Curriculum requirements for all ages.
Lilidorei - The Alnwick Garden
What is set to be the 'world's largest play structure' is due to open at the gardens in Northumberland this spring. It will feature 160 metres of towers, 170 metres of bridges as well as spiral slides and an eight-storey building. Apparently because of the playground's size, a child could play continuously for 105 days.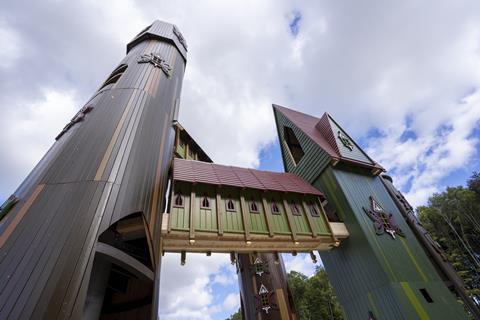 The Duchess of Northumberland is behind the creative vision for the new attraction which will provide screen-free play and the ultimate escape from 21st century life.
Lilidorei will encourage children across the country to use their imaginations as they explore the one-of-a-kind magical village where it's Christmas all year round and goblins, elves, dwarves, pixies, and trolls are plentiful.
Goblins are mischievous, fairies are fantastical andchildren's journeys throughout the clan houses will create everlasting memories.
Adventure Play - Windsor Great Park
This play area is opening in Windsor Great Park this summer. It is described as a unique, hand-crafted play area hidden within the woodland next to The Savill Garden.
Full of walkways, slides, sculptures and tree houses, children will be able to get close to nature, challenging their body and stimulating their senses.
Windsor Great Park hosts a number of education programmes for primary schools featuring imaginative activities linking with science and geography as well as providing opportunities to develop literacy and numeracy skills.
Lost Garden Adventure Play - Blenheim Palace
Said to be a "game changer for Blenheim, the new attraction will cover a site larger than a football field (5,000 square metres) and will celebrate the heritage of the 18th century baroque palace in Oxfordshire as well as its surrounding parkland and the natural world.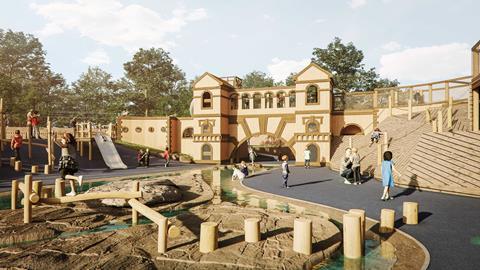 It will include quirky wooden structures, interactive water features, play trails and winding walkways. Plans also include a viewing platform, an interactive sensory garden walk as well as an oversized kitchen garden-inspired secret play area including giant carrots, sunflowers and plant pots.
At the centre of the play attraction, due to open this spring, will be a replica of Vanbrugh's Grand Bridge and a large seating terrace. There'll also be a refreshment kiosk with outdoor seating.