The Sky Champs' Education Programme includes reading, writing and mathematical tasks, as well as three school assembly plans and is now available to more schools through an online learning management system.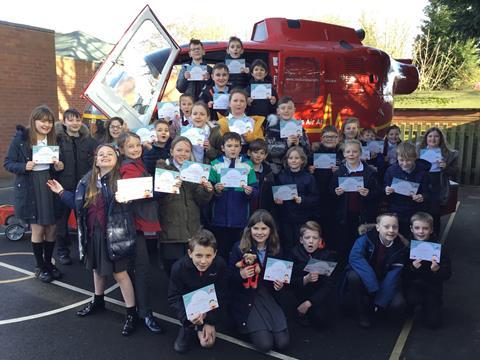 Throughout the Covid-19 pandemic and lockdown, Midlands Air Ambulance Charity has been providing its education packs virtually, to help those working from home occupy their children following school closures.
Parents of EYFS, Key Stage 1 and Key Stage 2 were able to access the packs to give their children a range of activities that were in line with the National Curriculum.
Now the charity has now gone a step further to provide the school packs on Moodle, an online learning management system, thanks to a £15,000 grant awarded by Midland Expressway Limited (MEL), operators of the M6toll.
The addition of this new service means the charity's education and training programmes can now be offered to more Midlands' schools, to support teachers and teaching assistants.
The packs contain reading, writing and mathematical tasks, and also include three school assembly plans, a safety pack and quizzes, all of which can be used as homework exercises.
Each of the modules use real life examples from Midlands Air Ambulance Charity and aim to provide fun while educating pupils of the importance of its rapid response and pre-hospital emergency service.
Emma Gray, fundraising and marketing director for Midlands Air Ambulance Charity, said: "During the past year, our interaction with local schools significantly increased, with nearly 400 educational institutions engaging with our Sky Champs training programme.
"With the extended support from M6toll and the introduction of online learning management system, Moodle, we can now roll out the education packs, virtually. This means managing the learning resources will be easier and the content more widely accessible for further schools located in our operating patch to support children's learning and development."
To find out more about the Sky Champs' Education Programme, CPR and Bleed Control training or to access the resources on Moodle, visit midlandsairambulance.com/education.