The award-winning attraction for schools has announced new and returning features for next year.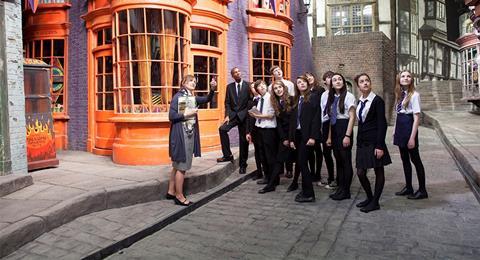 Warner Bros. Studio Tour London runs an education programme with links to the National Curriculum, and the attraction received the School Travel Award for Best Venue for English Learning in 2017/18. As well as lessons and workshops, UK schools are eligible for school rates that include an entrance ticket to the Studio Tour as well as a 45 minute lesson, broomstick experience, pre-visit tickets for teachers and a number of downloadable resources.
Considering booking a tour for next year? Here's the schedule of special events to look out for:
Introducing the Art Department
Dates: Friday 14th – Monday 24th February.
Visitors can study the work of the Art Department, which is responsible for a huge amount of Harry Potter props such as the Daily Prophet newspapers and Harry's Hogwarts acceptance letters. A range of techniques such as wand-making will be showcased and displays will include technical drawings, concept art, prop-making and white card models.
A Celebration of Slytherin
Dates: Friday 3rd April – Sunday 6th September.
Slytherin fans can look forward to a special celebration of the infamous house next year, and see the Great Hall bedecked in the house colours of green and silver for the very first time – including the films' original banners. Props and costumes belonging to key Slytherin characters will also be on display throughout the Studio Tour.
Dark Arts
Dates: Friday 25th September – Sunday 8th November.
The Halloween feature returns next year and so does its dark, scary version of Diagon Alley. The Great Hall will be prepared for a Halloween feast with seasonal food and floating pumpkins, and visitors can watch live wand demonstrations displaying how the films' battle scenes were directed.
Hogwarts in the Snow
Dates: Saturday 14th November – Sunday 17th January 2021.
The festive event returns next year adding seasonal cheer to a number of the Studio Tour's displays. Christmas decorations will appear in the Gryffindor common room and the Great Hall will be made up in Yule Ball style. The scale model of Hogwarts will be covered in a blanket of snow and visitors can also discover the different kinds of fake snow that were used in the films to create different effects.