See how big a castle really is, delve into secret wartime tunnels and marvel at the wonders of Stonehenge. Bring your teaching to life and inspire your students on a school trip to one of English Heritage's 400 historical sites across the country.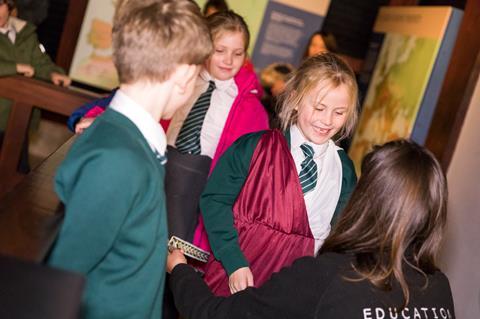 English Heritage is passionate about bringing the story of England to life. Its education team run award-winning Discovery Visit sessions across the country as well as offering free self-led visits. Standing at the place where history happened is a great way to inspire and engage students and bring teaching to life, and with a range of resources available to support learning in the classroom as well as at a site, you can make the most of your visit.
During a hands-on Discovery Visit, students are able to delve deeper into a subject and site and truly engage with it. Managed by site experts and tailored to align with the curriculum, learners can dress up, have a go at role play, crack codes, handle weapons or even become Royal servants. Each session has been designed to make learning fun and memorable.
New for 2020
This year, English Heritage has launched three new sessions providing exciting opportunities for your class to experience England's past. Each English Heritage site is individual and tells a different story, and workshops are therefore tailored to each place, allowing your students to enjoy an authentic and historically accurate experience.
Lullingstone Roman Villa – Roman Life and Learning from Archaeology Discovery Visit
Step into the shoes of an archaeologist at Lullingstone Roman Villa and learn more about the people who lived and worked there in the past. Handle replica objects, take part in role play, examine the remains of the villa, and discover more about Roman technology through learning about the hypocaust system. This session is suitable for KS2, but can also be adapted for KS1 and the topics covered include curriculum links to History, RE and Science.
"The workshop was delivered at a good pace, allowing the children time to absorb the learning. All children were engaged and active in their learning. It was a fun mix of History, Science, RE and DT, with our learning objectives coming to life in front of us.

"We had a great time experiencing the Romans' impact on Britain in a hands-on way."

KS2 class teacher, Plaxtol Primary School
Carisbrooke Castle - Water, Wells and Donkeys: Life in the Past at Carisbrooke Castle Discovery Visit
Learn how the community at Carisbrooke Castle survived during a siege, how the treadwheel in the well house was powered, and the role of the donkeys at the castle, through role play, mini games and sensory exploration. Students will see the treadwheel in action, create a working wheel-operated model and meet and greet one of the resident donkeys. This session is designed for KS1-2 students and is particularly suitable for SEND groups.
"A day at Carisbrooke Castle is better than weeks in the classroom! Children love that it looks like a 'real' castle."

Sue Pryor, Year 6 teacher
Beeston Castle and Woodland Park – New Bronze Age Roundhouse
Built using traditional materials and techniques, the newly created reconstructed roundhouse is based on archaeological evidence of Bronze Age huts found at Beeston, and offers a real experience of how prehistoric settlers might have lived at the site.
It's also the base for immersive Prehistoric Settlers Discovery Visits, which enable students to get hands-on with history. Your class will make flour using traditional techniques, meet Bronze Age experts and learn about ancient technology in an authentic setting. Suitable for KS2 students.

Bring your teaching to life and inspire your students at 400 sites across England. Your students can explore and discover the places where history happened at prehistoric sites, castles, abbeys and country houses including Stonehenge, Hadrian's Wall and Battle Abbey just to name a few.
View full Profile