School groups will be welcome at the new Tornado Springs, a themed American 1950s town, due to open in May 2020 - with free tickets up for grabs.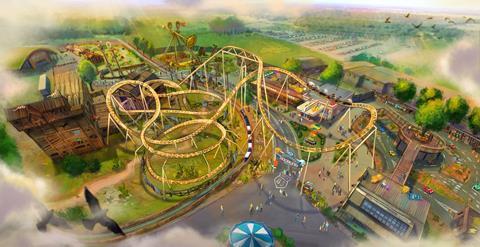 Covering more than four acres and featuring over eight different rides and attractions, the concept has been developed exclusively by Paultons Park and is designed to appeal to a wide range of ages from three to 14.
The theme park has also launched a competition for a school trip of up to 70 pupils to visit the site next year, with coach travel included.
Open to all OFSTED or equivalent registered establishments, as well as pre-schools, nurseries, Primary, Secondary and Further Education, the competition is valid for one entry per email address and closes on 14th February 2020, meaning schools can plan their trip around the opening of the new themed world.
Tornado Springs has been developed with the aim to offer true cross-generational appeal, covering themes of the 1950s era, as seen in films such as Grease and Back To The Future.
James Mancey, operations director of Paultons Park, said: "We are extremely excited to bring Tornado Springs to the public next May. The new themed world represents the single largest and most ambitious investment in the future of Paultons Park since we opened in 1983.
"The Tornado Springs concept is unique to Paultons Park and will significantly extend our capacity to entertain and delight children of all ages."
More about Tornado Springs
The new attractions set to launch as part of the themed world include the Storm Chaser rollercoaster – a free spinning ride, taking trains of carriages 20 metres above ground, with Paultons Park suggesting it will be the only rollercoaster of its type in the UK.
The Cyclonator – a Gyro Swing spinning pendulum ride, carrying 30 riders at a time and rising to around 25 metres, is expected to become the most popular ride at Paultons Park. It will be themed as a wind-powered invention by the townspeople characters of Tornado Springs, developed to scythe their crops.
It will also feature Al's Auto Academy – a garage-themed driving school ride with 30 electric cars for smaller children, while slightly older pupils can take a classic American car out for a spin by themselves.
The Windmill Towers family drop rides, the Buffalo Falls water raft ride, and Trekking Tractors will complete the line-up available.
James added: "We felt that the theming of Tornado Springs was a natural fit with the traditional family values with which Paultons Park is synonymous. We've coupled the vibrant appeal and charm of the 1950's era with best-in-class rides and attractions to create a truly unique world which, in association with our existing fantastic themed lands, will stand head and shoulders above any other family attraction in the UK."