The Leeds Playhouse production of C.S. Lewis' classic The Lion, the Witch and the Wardrobe has begun its UK and Ireland tour, with educational resources on offer to support school visits, as well as discounted tickets at all venues.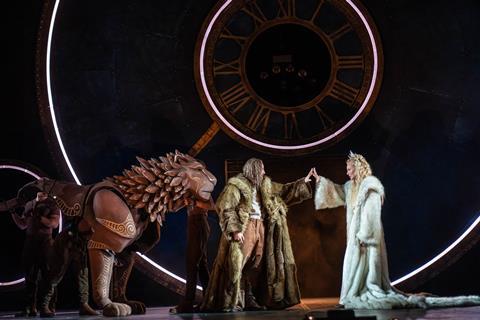 Schools across the UK can see the iconic story unfold live on stage at a selection of regional venues including Aylesbury, Southampton, Sunderland, Salford, Cardiff, Aberdeen, Nottingham, Edinburgh, Canterbury, Plymouth, Glasgow, Birmingham, Dublin, Woking, Norwich and Wimbledon, before the tour concludes at Bristol Hippodrome on 7th May 2022.
The production has an age recommendation of six or older, making it suitable for both primary and secondary aged children. In addition, the nature of the show means visiting schools can develop key themes and topics back in the classroom with a dedicated pack of educational resources which compliment the trip and aims to explore the production in greater depth.
Educational pack highlights
The cast of actor-musicians will use live music and different forms of theatre including puppetry to tell Lewis' classic story.
Guidance and information to support Live Production analysis at GCSE and A Level (suitable for all four exam boards and their specifications).
Studio activities to support scripted and devised exam performances at both GCSE and A Level, focussing on adaptation, characterisation, performance styles and key design elements.
Interviews with key members of the creative team to support students' understanding of roles and responsibilities in theatre, designed to support GCSE Drama and your school's work on careers.
Contextual and historical detail to support study of the work of C. S. Lewis.
Key Stage 2 & 3 studio activities to continue exploration of the play after students have seen the show
Video footage to inspire, support and encourage students to apply what they have seen in this production in their own work.
About the show
After the production ran in London in 2019 and February 2020, schools are able to step through the wardrobe and into the 'enchanted kingdom' of Narnia once again.
Pupils can join Lucy, Edmund, Susan and Peter as they wave goodbye to wartime Britain and embark on an adventure in a frozen, faraway land where they meet a talking faun, beavers, the king of Narnia, Aslan the lion, and the evil White Witch.
Samantha Womack stars as the White Witch, joined by Ammar Duffus as Peter Pevensie, Shaka Kalokoh as Edmund Pevensie, Robyn Sinclair as Susan Pevensie and Karise Yansen as Lucy Pevensie.
Aslan is played by Chris Jared, Mr Tumnus by Jez Unwin, Mr Beaver by Sam Buttery and Maugrim by Michael Ahomka-Lindsay.