The Natural History Museum has launched its #NHMHomeworkClub initiative, which invites children learning at home to join in with weekly educational activities covering different topics.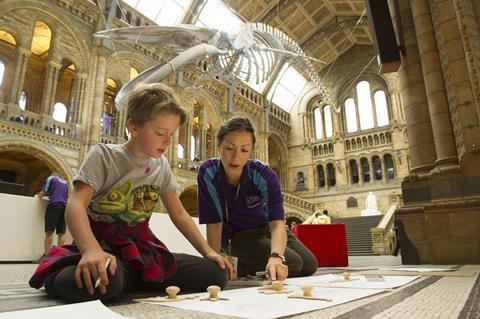 The museum's team of educators are sharing fun, daily activities for KS1 and 2 children to take part in at home through the attraction's Twitter page.
Every Friday, the Natural History Museum will also host a live broadcast quiz for pupils to test what they have learned over the course of the week, before moving onto a different topic.
Children can learn along with each activity posted throughout the week, or do them in their own time.
Zoe Howles, learning programme and resources manager at the Natural History Museum, said: "With NHM Homework Club, we wanted to quickly respond to the latest lockdown and provide a fun programme of simple activities for parents and teachers to do with their kids.
"We follow a different theme each week and the idea is that you can do as little or as much as you like. As a parent, I know all too well how hard it is to keep kids engaged.
"We hope that the NHM Homework Club will continue until schools are able to re-open as normal. When that happens, we'll be able to launch our brilliant new, streamed learning programmes and look forward to welcoming schools back to the Museum as soon as we can."
The initiative has already covered dinosaurs in its first week since going live and has also covered a winter wildlife theme, with other themes planned for the upcoming weeks.
Some of the Twitter reaction so far…
Catching up on the @NHM_Learn quiz as Jude's been at school today! pic.twitter.com/FOB0AGLgyU

— Victoria ✌🏻 (@VictoriaRivers2) January 22, 2021
@NHM_Learn @NHM_Tring
As we are learning about dinosaur teeth today, Jude wanted to show you guys this very precious Spinosaurus Tooth that she got from her friend @nicolel_b ! pic.twitter.com/Y10IHqy9nM

— Victoria ✌🏻 (@VictoriaRivers2) January 19, 2021
@NHM_Learn well here it is: #NHMHomeworkClub pic.twitter.com/AMJIvPMpsP

— Jo 💙🍏🦕 (@mummarex) January 18, 2021
Jude has been working hard on her Troodon outfit @NHM_Learn #NHMHomeworkClub @Tweetisaurus @WhyDinosaurs pic.twitter.com/8VZXL6Okuc

— Victoria ✌🏻 (@VictoriaRivers2) January 18, 2021
If you want to jump straight into the activities on offer, visit twitter.com/NHM_Learn to jump straight into the action.