The festival, which aims to broadcast top writers for all ages, has released its free online programme for schools which includes a series of interactive activities and workshops from 24th - 28th May.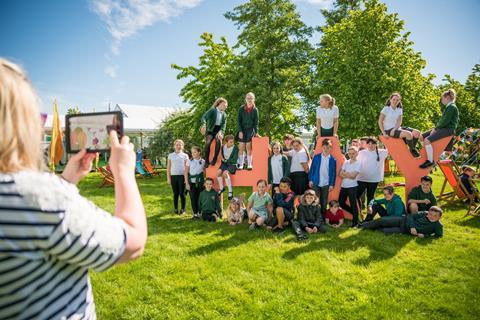 Five sessions will be broadcast daily for pupils across KS1-4 with each event accompanied by free teaching materials and active learning tasks, available to view live or on replay throughout, along with the festival's full schools archive.
KS1 pupils can take in performance poetry from Joseph Coelho, outdoor sessions with Michael Holland (I Ate Sunshine for Breakfast), timely tips on How to Change the World with Rashmi Sirdeshpande, Simon Mole (I Love My Bike) and fun with Maria Vegara (Little People, BIG DREAMS).
Highlights for KS2 pupils include getting creative in events with Matt Lucas and his Very Very Very Very Very Very Very Silly Book of Pranks, joining Robert Winston as he explores the world of science and taking part in conversations with Patience Agbabi (The Time Thief), Zanib Mian (Planet Omar), Alex Wharton (Daydreams and Jellybeans), Adam Kay (Kay's Anatomy), David Baddiel (Future Friend) and Konnie Huq.
And KS3 & 4 pupils will hopefully find inspiration in events led by authors, poets, illustrators and performers exploring important issues for young people to consider, from the environment and sustainability to inclusivity, wellbeing, and the importance of reading for pleasure. Guests include Benjamin Dean (Me My Dad and the End of the Rainbow), Robert Muchamore (The Cherub Series), Liz Kessler (When the World Was Ours) and Phil Earle (Surrounded by Stories).
Aine Venables, Hay Festival education manager, said: "In a year of enormous challenges for young people and schools all around the UK, we're pleased that our new digital formats enable us to bring writers and young people together in sessions that can inspire and entertain. Our free Programme for Schools aim to meet that need with vibrancy and joy. Everyone is welcome."
Beacons Project
The festival has also released two digital Beacons Project workshops aimed at emerging writers aged 16-18, featuring Bafta, Olivier and Tony award-winning screenwriter Jack Thorne and Welsh poet, author and playwright Owen Sheers.
Thorne will discuss the adaptation of Philip Pullman's trilogy His Dark Materials and Sheers leads students through a creative writing workshop inspired by and filmed in the landscape of Wales.