The Department for Education (DfE) updated the guidance for England stating that day visits can restart from stage two of the roadmap, no earlier than 12th April, with residentials resuming no sooner than 17th May.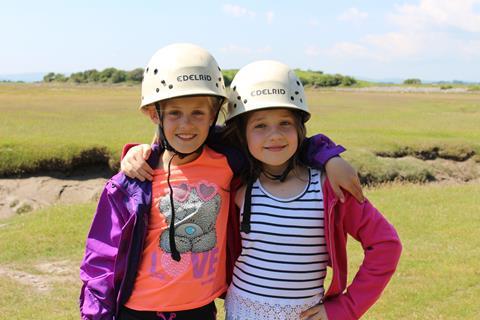 The update, published by the Government on Friday, comes following months of campaigning and lobbying from across the school travel and outdoor education sectors.
Providers, charities and teachers have highlighted the major impact the ban on school visits was having not only on children's wellbeing and development but also on the sector as a whole with a warning that many providers could be forced to close permanently as a result.
Leave your comments about the news below.
Publishing the guidance on Friday, the Education Secretary Gavin Williamson said he recognised how crucial educational visits were: "I remember my own school trips with such fond memories – and I know how important it is for children to go on educational visits to learn and laugh with their friends. These trips are a key step in returning to normality for a lot of children and are so important for children's development and wellbeing.
"I want to thank outdoor education providers and the wider sector who have shown such great resilience as a result of the uncertainty brought about by the pandemic."

Gavin Williamson, Education Secretary
The DfE said that all dates were subject to change and all advice regarding school trips would be updated in line with the roadmap.
Click here to read the full guidance, including what measures schools will need to put in place for visits.
The DfE said that guidance on international visits remained "under review, pending the findings of the Global Travel Taskforce".
It added that it recognised the gap when it comes to travel insurance and school visits. In the updated information, the DfE confirmed it was working with Her Majesty's Treasury to explore the possibility of a "coronavirus restricted indemnity" that would:
give schools cover against coronavirus travel cancellations in the future.
allow schools to book new visits with confidence.
Reaction from the sector
The Field Studies Council, an environmental education charity which usually welcomes 150,000 learners to its field study centres each year, said it was now preparing a timetable for welcoming students back acknowledging that the dates could still be "subject to change".
Chief executive Mark Castle said: "It's a huge relief to all of us to have some dates to work towards. We have never asked for special treatment, only to be allowed to follow the roadmap. It means we can slowly begin welcoming learners back to our Covid-secure centres and play, what we believe, to be a vital role in the nationwide school catch-up programme."
"Being able to open our centres again means we can support teachers and school pupils, both of which have faced an incredibly challenging year."

Mark Castle, Field Studies Council
"We can help re-connect children with their friends in inspirational places; we can provide acres of wide-open spaces for children to safely learn, play and improve their well-being and, most importantly, we can help make up for lost learning time."
Andy Robinson, CEO of the Institute for Outdooe Learning said: "The change in guidance has been informed by careful dialogue between the DfE team and representatives of the sector. We plan to continue this dialogue to ensure the re-opening of the provision is as successful as possible.
"School residential visits play an important role in the school year for many and as we begin to emerge from the worst effects of the pandemic the role they can play in assisting children and young people's recovery is clear."
"This encouraging new guidance allows school staff to plan with certainty and providers to commit resources and effort to prepare."

Andy Robinson, Institute for Outdoor Learning
"Whilst there remains some additional work to be done to protect the finances of schools and providers, the statement of intent by the Department to agree an indemnity backed by the Treasury is particularly encouraging. I look forward to the confirmation of this in the near future."
UK Outdoors, the industry body for outdoor learning and activities, has welcomed the decision.
Martin Smith, chair of the Outdoor Council, said: "Day visits restarting from 12th April and residentials from 17th May are huge milestones for our sector, our staff, and schools and schoolchildren in England. We would like to specifically thank the committed officials at the Department for Education and local MPs who have worked so hard with our sector to ensure we can get up and running safely. Also to our member organisations and their members for their hard work and patience during this period."
Jim Whittaker, chair of Association of Heads of Outdoor Education Centres, added: "We have worked so hard and it's brilliant to have some clarity. Our attention now turns to delivering safe educational visits in line with our proposals and the roadmap and we will continue our work with the Department to that end.
"Our members can't wait to get back to doing what they do best, delivering life-changing outdoor education for schoolchildren and young people, especially in the context of the recovery from Covid. We look forward to welcoming you all in the coming months."
Gill Harvey, CEO of the School Travel Forum said they were pleased that UK day and overnight educational visits were able to re-start during the summer term, adding: "These experiences are ingrained within school life and their resumption will help bring a sense of stability to young people, that life is returning to normal, which is so important for their health and wellbeing.
"We look forward to continuing our work with the Global Travel Taskforce and the School Travel Stakeholder Sector Group to develop a plan that will allow schools to booking of future international educational visits as soon as possible. Due to the planning period for these trips which can be anything from 9 – 24 months, schools need to be able to start reserving their visits now."
Evie Shrimpton, who has been instrumental in organising the Save Outdoor Education campaign, said: "We're glad to see that the DfE has recognised our sector, and finally got us on that roadmap."
"This is great news for centres, schools and children and young people alike, and we can't wait for a summer in the great outdoors!"
She said there were still a few issues outstanding including:
The Scottish, Welsh and Northern Irish Governments to allow their schools to plan trips.
Government backed insurance for school trips.
Specific funding for English centres.
Guidance for covid-secure residential trips.
Many across the sector have been reacting on social media
Great news to have some clarity on when we can restart school trips.

Thank you so much to everyone who has worked so hard to make this happen (too many to tag here!)

We are so excited to get school groups back into the great outdoors!

But...
1/2https://t.co/PSp5XDdQR8

— Save Outdoor Education (@saveoutdoored) March 26, 2021
While we have to work to do to support schools and families delighted that school day trips can start again from 12 April and school residentials from 17 May. https://t.co/j2CFUGlmrh

— Anita Kerwin-Nye (@anitakntweets) March 26, 2021
Good news!

Day visits are returning from the 12th April and Residential visits from the 17th May!!

We can't wait to welcome you back to SOLD!#SOLD #saveoutdoored #residentials #outdoorlearning pic.twitter.com/7LjMgqf59S

— Surrey Outdoor Learning & Development (@SOLDoutdoors) March 26, 2021
The #saveoutdoored campaign has been highlighting the plight of the sector over the last nine months, warning that future generations will miss out on access to valuable experiences as a result of the ban on visits.
Here's a video from a few months ago of the campaign poster touring the UK:
Gareth Davies, operations manager at the Arete Outdoor Centre in North Wales, said: "After working so hard over the last nine months it is a relief to finally receive the good news from the Department for Education for English pupils who can now look forward to summer residentials. We hope the promised guidance of how we can operate is forthcoming.
"It must be remembered that there has been no update from Welsh Government nor a change in guidance for Scotland for pupils from these nations."