It's easy to see why youngsters have been blown away by the robotics workshop at LEGOLAND® Windsor Resort. Launched in March, we found out how it's bringing coding to life.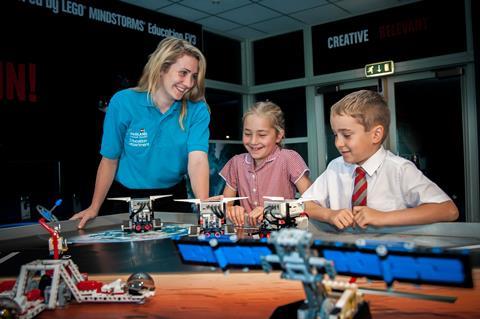 "You're teaching children coding skills for jobs that don't even exist yet", education host James Chapman told me as he presented a very exciting box. Inside, of course, were heaps of brightly coloured Lego bricks and some other interesting-looking objects that are used for the LEGO Robotics workshop.
It didn't take long to get stuck in with building our very own theme park ride, with so much to choose from. There are plant decorations, trees, cats, dogs, you name it. I opted for a 'twisty' ride of sorts, with different levels and a tree on top. While my two guinea pig participants didn't fall off on the first spin, the wonderful thing is, you can adapt the programming to reduce the speed, or even change your build.
And then comes the fun part…
James showed us how to connect the 'motor' to the ride and gave us an iPad to create the magic. There are so many options, from choosing which music to accompany the ride (apparently the children have even been recording their own sounds) to adding lights, the number of spins you want and the speed of the ride. Computer programming complete, we hit start and our rides came to life, just like that.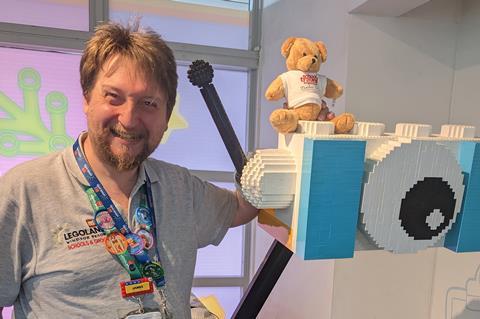 James told me: "Every school that has come in to do the Robotics workshop so far has said it's brilliant. All of the teachers have said it's so quick. The children can see exactly what the effect of that code is in an instant."
"For me it's a wonderful kit because it encompasses the wonderful simple elements of Lego with the advanced coding that goes behind it."

James Chapman, education host, LEGOLAND®
"What's nice is that children understand how to build Lego so they can immediately access the kit. Then they get more into the coding side of it, the electronic side of it and what Lego has cleverly done is build a kit that appeals to not only the engineers but also the creative types. You can bring your creations to life and then you're coding for a purpose."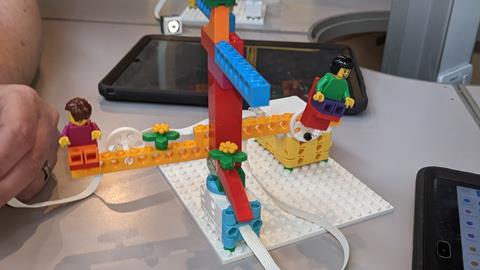 Making coding and computing accessible
No stranger to coding and robotics, Legoland has been running a similar workshop for secondary schools for the last few years. Aimed at KS3 and KS4, LEGO® Robotics - Secondary Edition involves pupils completing a series of challenges with robots, enabling them to learn about algorithms, sequences and inputs and outputs.
I sampled the new Primary version for Years 3-6 which covers key computing topics such as coding, repetition in programs, debugging, inputs and outputs, as well as algorithms.
Unsurprisingly, the rise of coding, and awareness around it has increased in recent years and particularly in education following the introduction of the new 'computing' curriculum in 2014, including coding lessons for children as young as five. What Legoland aims to do is make coding accessible for all ages.
Education host, James Chapman was himself a teacher for 15 years before joining the Legoland education team to combine education with his passion for Lego. He told me: "When coding was first introduced into the curriculum, people looked at it and thought, I have no idea what this all means and there were questions about how to teach younger children especially. It's a lot better now.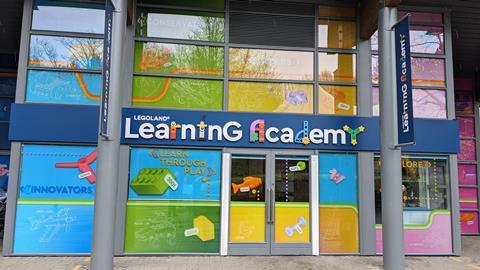 "The wonderful development has been that we can use Scratch-based coding to make it so much more accessible for the children looking at it for the first time but also for the adults. A lot of teachers are not coding experts. They need that basic understanding to be able to lead the children through."
Can understand and apply the fundamental principles and concepts of computer science, including abstraction, logic, algorithms and data representation.
Can analyse problems in computational terms, and have repeated practical experience of writing computer programs in order to solve such problems.
Can evaluate and apply information technology, including new or unfamiliar technologies, analytically to solve problems.
Are responsible, competent, confident and creative users of information and communication technology.
Computing is equipping the next generation for future developments. The exciting thing is, as James points out, that we don't yet know what technology will be available when today's children are adults.
"Who knows what kind of jobs these children will be doing," said James. "Nobody knows because the software they're using hasn't even been invented yet.
"But what we can do is give them an understanding of how that software is created, how to think logically and sequentially and they can apply that to whatever language or structure they find themselves working on in 10-20 years. Because the chances are it's going to involve computers somewhere."
The beauty of the workshops being at Legoland is that either before, or after, the pupils can go out into the park and see rides come to life in reality; it gives them the context to what they've been taught in the Learning Academy.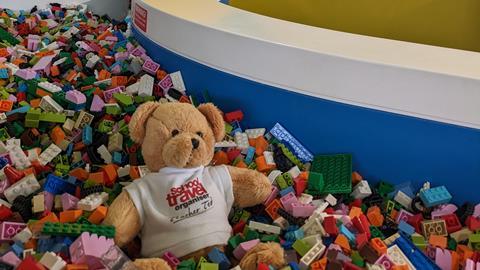 James explained: "When school groups come to us for a workshop, the children are learning before they even realise they're in a classroom. It's all about allowing engineering and science to be accessible to children at all ages. It should be something you can take out into the real world and the beauty here is you can take it out into the park and it's enjoyable."
And what can teachers expect when they book a school visit to Legoland?
James said: "We want teachers to be able to walk into the classroom and know they will get a valuable session for their classes.
"What I have come to really enjoy about my role is the freedom that teaching with Lego gives you. There's no right or wrong way to build. If a child wants to explore robotics in a certain way, we can allow them to do that. We give them an opportunity to explore various skills and there's no ceiling."
Schools can choose from 11 different workshops at Legoland covering key curriculum areas including English, Computing and STEM.
To find out more visit www.legoland.co.uk/schools/

An award-winning journalist with 16+ years' experience, Keeley joined STO in the summer of 2017 after a number of years as assistant editor at The Oxford Mail.
View full Profile