Go Ape offers amazing learning outside the classroom experiences across the UK, from team building activities to exhilarating high ropes courses which are suitable for all ages and abilities.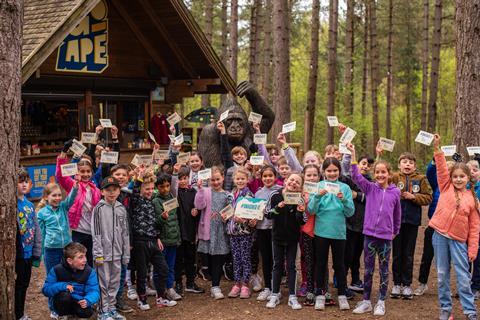 Outdoor experiences are crucial for a young person's development, and with a Go Ape school trip, fun and learning go hand in hand. With tree top and ground-based experiences (for 4 to 16-year-olds) at 36 locations around the UK, your class are sure to have an unforgettable day in the great outdoors.
Whether they want to swing high in the trees or explore the forest floor, there's something for everyone. Set your pupils free on three unique high-rope experiences (for adventurers over 1m tall), filled with tricky crossings, zips and tarzan swings.
Pupils can break out of their comfort zone as they overcome heights, ziplines and grow their confidence in a safe and secure environment.
Younger year groups can discover heights on Nets Adventure, the ultimate playground in the trees, made up of springy canopy-based suspended nets. Or the fun and interactive ground-based group games, Baboonzled and Gorilla Games, are perfect activities to nurture team development skills.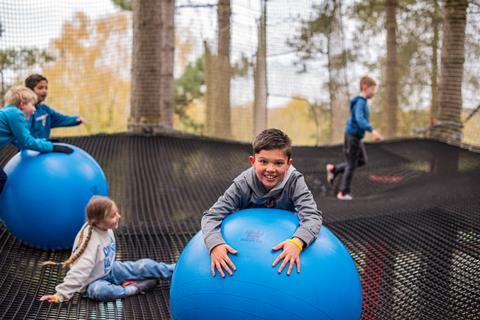 Go Ape are also proud to be School Travel Awards winners and hold the Learning Outside the Classroom Quality Badge at 25 of their locations. They can accommodate primary and secondary groups of any size, from small classes through to entire year groups - or entire school groups!
Benefits of a Go Ape school trip
Boost mental health and wellbeing: spending time outdoors and in nature has been shown to reduce stress and anxiety. Being in nature can refresh our senses and allow an escape from thoughts and worries.
Improved problem-solving skills: think outside of the box and come up with creative ways to solve Go Ape's activities and adventures.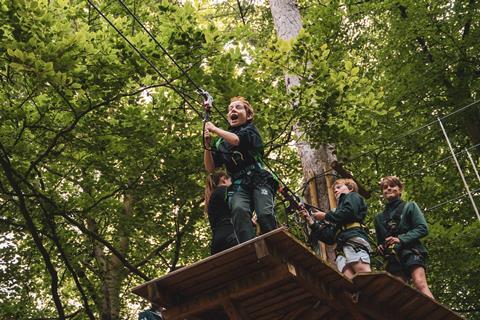 Increased confidence: by challenging students to step outside of their comfort zone, they can learn to trust themselves, their abilities and prove that they can do far more than they may have thought.
Improved fitness: Go Ape Adventure courses are designed to be accessible, but they do offer a degree of physical challenge. Pupils are sure to get their heart pumping as they traverse tricky crossings, zips or clamber up the Tarzan Swings.
You can get a taster of what to expect from your school's Go Ape adventure in the video below:
There's so much to learn in the forest. Pupils can break out of their comfort zone as they overcome heights, ziplines and grow their confidence in a safe and secure environment.
Go Ape has cherry-picked the locations of its unique outdoor activity centres to ensure that each experience is one of a kind. You can expect nature at its most spectacular with stunning landscapes, historical backdrops and brilliant views from famous city skylines to treetop vantage points. No two Go Ape adventures or UK activity centres are the same.
In addition to this, teachers can benefit from free educational resources to complement the trip, as well as discounted rates and bespoke packages.
Speak to the Go Ape groups team on 01284 852229 or request a quote at goape.co.uk/groups/schools to create your bespoke school trip.

Pupils of all ages and abilities can enjoy an adventure at one of 36 Go Ape locations across the UK, Scotland and Wales.
View full Profile