Moorside Primary School in Lancaster won last year's 'My Best School Trip' Award. Deputy headteacher Jonathan Whitwell reports back on what they did with the £1,500 prize money.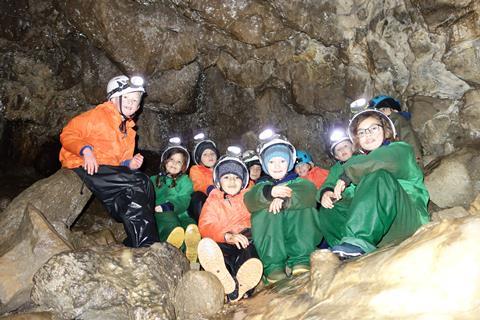 The impact of winning this award has been such a positive experience for our school. It has recognised the work we do in promoting outdoor and adventure learning and has highlighted how this is a unique selling point for our school with parents, governors and staff, but most importantly with our children – they have been incredibly proud to be part of the award process and are rightly proud of our school for winning it.
Having the accolade has also inspired us to keep looking for new ways to promote learning outside the classroom, with three new visits already booked throughout school since winning. We have also forged a new link with the Yorkshire Dales National Park Authority and are now working together with their new Education and Events Manager to incorporate the work of the National Park into our curriculum
"Experiencing the real feeling of being in a cave was way better than learning about them in a classroom. Since our visit, I've been caving again with my friend Joseph and we explored Long Churn cave system where we climbed up an underground waterfall."

Isla (Year 3 – aged 8)
We used our prize money to develop a caving adventure day for Year 3, set in the limestone environment of the Yorkshire Dales; it built on the learning that children have done in Key Stage 1 with their experiences in Malham (for which we won the School Travel Award), ensuring that the experiences are progressive and linked rather than a series of standalone visits. Year 3 study rocks and soils as part of their underground topic work, which incorporates the Stone Age, volcanoes and earthquakes, and caves.
Caves can't be taught effectively in a classroom as they need to be experienced to be fully appreciated. With this in mind, we designed a caving adventure day that would allow children to experience first-hand the features of caves and limestone that they had learnt about in class, whilst more importantly experiencing how it felt to be in a cave system – what the features look like, feel like and sound like. We decided against any sort of 'show cave', as this does not give the same feeling of isolation, immersion and adventure that caving is all about and is pretty lame in terms of adventure and physical challenge.
"We explored the spacious Yordas Cave where we got lots of 'welly juice' (water in your wellies that warms up) by climbing into a rocky underground stream and waterfall. We were also learning as Scientists and learnt how stalactites and stalagmites are formed as well as seeing fossils called Devils' Toenails. Now I've had this experience, I really want to go caving again."

Karl (Year 3 - aged 8)
Firstly, we explored Yordas cave system in Kingsdale – an excellent introduction to being underground, with a voluminous chamber immediately on entry, along with side passages and chambers containing a large waterfall, narrow passageways, underground stream and features such as flowstone with which the children were already familiar. The drips from stalactites, thundering waterfall, spray and humidity gave our children an instant 'wow' factor and a sensory overload – an almost overwhelming range of stimuli a couple of minutes from the surface. This would not have been possible in a show cave, as the children explored the passageways themselves and we stood directly in the waterfall's plunge pool chamber, experiencing the cold water up to waist level too – their first resilience challenge.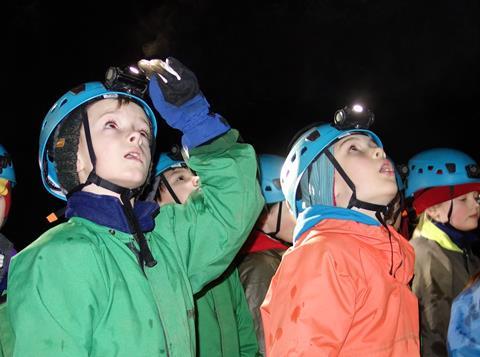 We then explored the cave systems at Ribblehead in the afternoon – Thistle and Runscar. These are perfect beginner cave systems that children can explore – narrow, tight and atmospheric, with subterranean streams and a variety of side passages and physical challenges. We spent the afternoon exploring these systems, learning to manoeuvre and manage the emotions that come with being enclosed by rocks and immersed in water.
"We learnt the different processes that form caves like Yordas, Thistle and Runscar, including how limestone dissolves and the caves were formed. We learnt, as Scientists, how stalactites and stalagmites were formed and saw lots of examples of different cave features with names such as Devils' Toenails (which were a type of fossil)."

Bobby (Year 3 – aged 8)
Spending the whole day in the relative wilderness of the underground world gave our children the very best experience of caving that we could. The learning, both academic in terms of Geographical and Scientific skills and understanding, and physical development, could not be rivalled in a classroom or tourist-attraction show cave. Children finished the day having a clear understanding of limestone and the formation of cave systems, how water can shape passageways and the associated formations such as flowstone, stalactites, stalagmites and underground river features – waterfalls, streams and lakes. They were able to compare and contrast different cave systems and explain their reactions to being underground and how it felt.
As a school, we are proud to have been part of the School Travel Awards and it has inspired us to keep investigating new and unique experiences to offer to our children to develop their understanding and set their learning in real contexts, with the hope that we are inspiring them to become lifelong learners with a real appreciation of the value of exploring and adventure.
About the 'My Best School Trip' Award
Moorside won this category at last year's School Travel Awards for their Year 1 winter residential to FSC Malham Tarn in Yorkshire. They used the prize money on a Year 3 caving adventure at Ribblehead and Kingsdale.
Entries for the 2019 award, which comes with a £1,500 prize, are open until Friday 5th, July. For more information, including how to enter, go to: www.schooltravelorganiser.com/bestschooltrip