Deputy head Ian Mitchell was able to take a group of students to Go Ape - a visit that was offered to the school after winning the 'My Best School Trip' Award.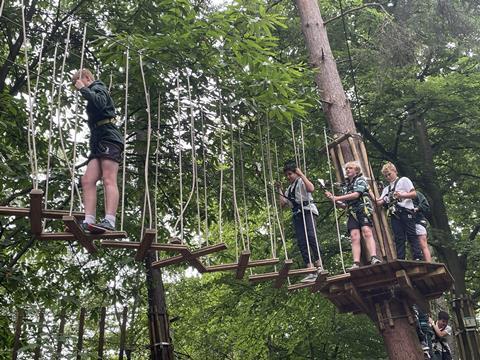 Ian entered his Year 9 'Making of Modern Britain' educational visit into the 'My Best School Trip' Award in 2019, a category that comes with a £1,500 prize for the winner to spend on a future trip.
Kingswood House School in Epsom, Surrey, went on to claim victory in the category, eventually spending the prize money on taking the Year 10 pupils go karting after Covid lockdown restrictions were eased.
However, Go Ape, which partnered the award, presented the trophy to Ian on stage alongside host Fiona Bruce and promised that he could also take his pupils on a day trip to one of the Go Ape activity centres across the UK as an extra reward – free of charge.
Ian said: "It seems a very long time ago since Fiona Bruce and Go Ape presented Kingswood House School with the 'My Best School Trip' Award in November 2019.
"Little did we know at the time that our learning outside the classroom programme would be decimated by the pandemic and it is only during the 2022 summer term that Kingswood House resumed its full programme of trips.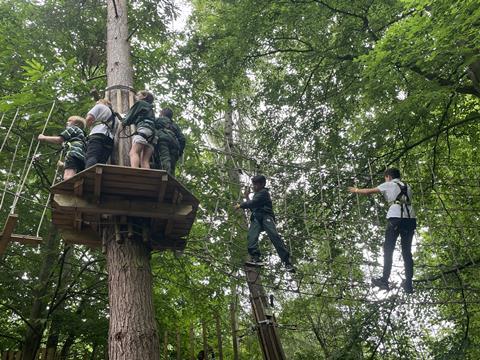 "On the same day as Year 10 students went go karting, our Year 8 cohort spent a morning having a superb time among the treetops in Black Park, Slough, courtesy of Go Ape.
"This was a supplementary prize offered by Go Ape after I spoke to the team at the School Travel Awards. We very much appreciate them honouring their offer after three years."
George Nolan, who helped organise the Go Ape experience for Kingswood House School, said: "We, at Go Ape, were proud to offer a School Trip back in 2019 and are glad that Ian and the Kingswood School have finally been able to redeem their experience.
"Go Ape have always been passionate about delivering memorable experiences and helping children to develop their confidence and resilience through school trips. We are delighted that Kingswood House School had such a great day out at Go Ape Black Park and look forward to attending the 2023 School Travel Awards."
Ian added: "Thank you to everyone for choosing us as your winner back in 2019 and to School Travel Organiser for giving our pupils something to remember."
The 2023 School Travel Awards lunch and ceremony will take place at London's Royal Lancaster Hotel on Tuesday 6th June.
Entries for the 'My Best School Trip' Award, which comes with a prize of £1,500 to spend on a future school trip, are now open. For more information click here.