Ian Mitchell, deputy headmaster of Kingswood House School in Epsom, reports back from his school's go karting experience. The school won the 'My Best School Trip' Award in 2019 for its Year 9 'Making of Modern Britain' trip, and have finally made use of their prize money after the pandemic halted original plans.
Little did we know when we won this award in 2019 that our learning outside the classroom programme would be decimated by the pandemic and it is only during this last summer term that Kingswood House has resumed its full programme of trips.
We decided to use the £1,500 prize money on a trip for our Year 10 pupils, since they were the year group that missed out most on trips during the pandemic. This generous sum gave us scope to organise something more ambitious than usual and we wanted to plan an activity that the pupils would remember for a long time.
While deliberating on what to do, our Year 10 pupils were, at the same time, completing their Higher Project qualifications, a pre-GCSE award that allows pupils to research, write and present a topic of their own choice. Many chose to study various aspects of auto sport and therefore, we thought it might be fun to take them go karting. Most of the students were very excited when we proposed the trip.
Surbiton Raceway is not far from the school, so it was not long before the students were swapping desks for steering wheels, eager to compete with each other. The crew at Surbiton Raceway were fantastic and ensured everyone was kitted out properly and followed safety procedures carefully. The pupils were split into three groups and each group raced twice. Karts were fitted with chips so everyone could compare times with one another.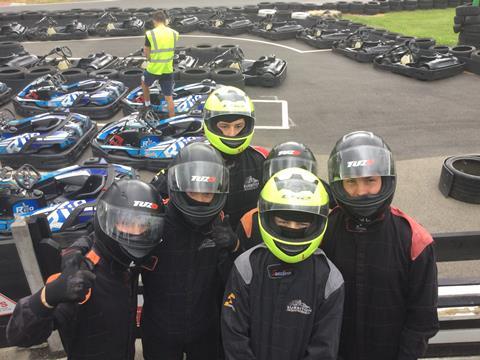 The race marshals were kept busy during the opening laps of the first races but as the pupils became more competent with the controls, the racing got more exciting; even the more anxious children were attempting daring overtaking manoeuvres! All the drivers were cheered on by their peers who enjoyed the thrills and spills of each race. Of course, the biggest cheer came when a teacher spun out or had a close encounter with a tyre wall!
For many students, this was their first experience driving any sort of motorised vehicle and it was wonderful to see them grow in confidence over a short period of time. "I wasn't sure that I would like go karting, but once I got on the track it felt exciting and I want to do it again," remarked one pupil while another commented: "It has been a brilliant morning. We really enjoyed racing each other. Everyone has had a great time."
This was the first time that the whole year group had been together on a trip for three years and it was wonderful to see the camaraderie. The trip demonstrated clearly the value of learning outside the classroom. Many pupils attempted a new skill for the first time, many pushed themselves beyond their comfort zone and all the pupils supported one another despite some healthy and good-humoured competition. Children who ordinarily do not mix joked together and shared stories about their racing, and the mutual respect between staff and pupils was palpable. These moments on trips are special, they often transcend what can be achieved in a classroom and there were many of them during this morning.
Thank you to everyone at School Travel Organiser and the judges for choosing us as your winner back in 2019 and for giving our Year 10 pupils a morning to remember.