At York's Chocolate Story, guests embark on an entertaining, informative and interactive guided tour through the history of York's most famous chocolate-making families and their finest creations.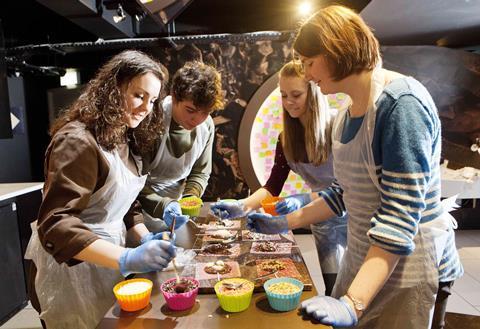 Itinerary: WW1: Chocolate Home and Away
Provider: York's Chocolate Story, York,
Subjects: History, with cross-curricular links to English, Geography and Religious Studies
KS: 3 and 4
The comprehensive education programme covers Key Stage 1 to Key Stage 5 and is designed to be fun and engaging, whilst tying closely to the national curriculum.
School trips include a visit to the attraction for a fully-guided tour, as well as an offsite curriculum based workshop. All workshops include a practical exercise in which participant can make their own chocolate product to take home.
10.15am: Arrive at York's Chocolate Story, where you'll be given directions to the workshop venue. A short walk through the historic street of York leads your class to the venue.
10:30am: Workshop begins, with the session lasting one hour. The workshop group will use a combination of comprehensive and practical exploration to discover more about the vital role that York chocolate played in the First World War.
11.30am: Once the workshop has finished, there will be time for pupils to engage in a Q and A with their workshop leader.
12pm: Lunch begins in the workshop venue.
12:45pm: Once lunch has come to an end, the group will head over to York's Chocolate Story
1pm: The students will begin their guided tour of York's Chocolate Story. They will discover how the confectionery industry shaped York. Along the way, they can learn all about factory life and hear stories and memories from the people of York, before making their own chocolate creations and watching professional chocolatiers showcase their skills in a live demonstration.
2:15pm: The group will finish their experience and have some time to look around the shop and café area.
2:30pm: Groups meet outside York's Chocolate Story, ready for the trip home. The site has easy access to coach parks in York city centre. Goody bags can be arranged in advance.
Prior to the trip, York's Chocolate story provide a wealth of resources for teachers, including risk assessments and national curriculum links. It has a range of follow-up materials, where teachers can provide feedback and gather any post-trip information they require to enhance the overall experience.
Contact information:
01904-527765
www.yorkschocolatestory.com