Aeronautics and space leader Airbus has announced a three-year partnership with Winchester Science Centre and Planetarium to support the charity's mission in sparking children's curiosity in Science, Technology, Engineering and Maths (STEM).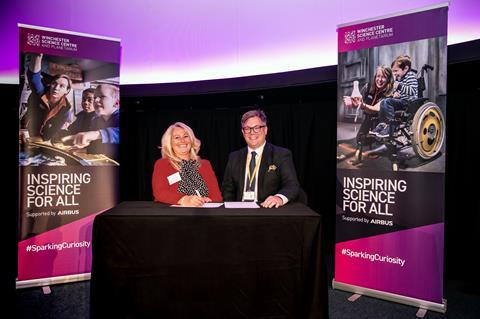 Airbus has had a long-standing relationship with Winchester Science Centre & Planetarium and was even one of the charity's founding industry partners.
Jo Sawford, Airbus' head of site at Portsmouth, said: "Supporting STEM activities is key for us – to engage with future engineers, scientists and technicians.
"We are delighted to partner with Winchester Science Centre and support their work in inspiring the next generation of aerospace pioneers."
Ben Ward, CEO of Winchester Science Centre & Planetarium, continued: "At Winchester Science Centre we want to excite children and show them that Science is fun, creative, varied, rewarding, life-changing and most importantly, that every child has the potential and capacity to be involved.
"Access to these opportunities can be limited for many young people for reasons such as, an out-of-date perception of Science, unconscious bias, a low level of confidence amongst parents and teachers, limited access to fun and poor visibility of STEM role models. We want to change that."
STEM workshops available at the centre
Winchester Science Centre is run by an educational charity, with a mission to 'build science capital for all' and an aim to make visiting the Science Centre available to everyone.
Visiting schools can book onto a bespoke package for Key Stage 1 - 3 that includes a themed workshop and live planetarium show, plus an interactive space challenge and time for students to explore the hands-on exhibition.
All schools qualify for a 25 per cent discount on equivalent general entry, and accompanying adults attend for free. Discounts are provided for state-funded schools, schools with above average number of students receiving free school meals and the centre's priority schools.
About Winchester Science Centre & Planetarium
The Science Centre welcomes more than 40,000 school children, who participate in hands-on and live Science shows, workshops and planetarium displays.
The team engages thousands more through school and community outreach activities.