Winchester Science Centre and Planetarium in Hampshire will relaunch its visitor experience in July 2020, meaning visiting schools can make use of its £1.1 million redevelopment plan named Inspiring Science for All.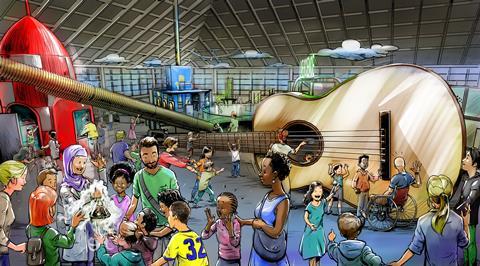 Following completion of the first phase of the project - the installation of an accessible planetarium in June and Changing Places toilet (fully accessible toilet) in October, the centre will now see its upper floor totally transformed.
This will include a new multi-sensory exhibition, a re-designed welcome area, café and shop, the creation of a sensory room, live science demo area and invention studio.
The exhibition will be centred on sound, hearing and vibration and will cover all aspects of STEM (Science, Technology, Engineering & Maths). The project is being paid for by fundraising efforts by the attraction and a grant from Biffa Award.
Ben Ward, CEO of Winchester Science Centre, said: "Thanks to Biffa Award we are now in a position to turn our dream into reality and create an accessible and inclusive Science Centre experience that every child can enjoy."
Around 40,000 school visitors see what the centre has to offer every year, including its range of different workshops. You can read all about the work of the Science Centre in School Travel Organiser's Too Cool For School feature here.
The importance of STEM
Gillian French, Biffa Award head of grants, said: "It is great to know that the funding we have awarded to Winchester Science Centre and Planetarium through Biffa Award will help to fuel imaginations, spark interest and create a passion for STEM subjects among our next generation of scientists, technicians, engineers and mathematicians. We can't wait to see this exciting project when it is completed in 2020 – it really will help to transform lives."
Further information
The design of the project is being led by Houghton Kneale Design Ltd (HKD), which will help bring the centre's vision to life, with its director, Kate Kneale, adding: "We share the Science Centre's ambition to create inclusive experiences.
"We were excited by the challenge set by the Science Centre, to create an accessible, multi-sensory exhibition and experience that would delight its visitors and spark their curiosity in STEM. Our design is as much about visitor wellbeing as it is about their interaction and learning experience."
To ensure the design stays true to the Science Centre's guiding principle 'no decision about me, without me', the concepts are being stress-tested for accessibility and fun via two consultation panels.
An Accessibility Advisory Panel, individuals who represent a wide range of disability and impairment, and a Young Persons' Steering Group, children aged eight to 12 representing the Science Centre's primary user, will test the new additions when complete.
The Science Centre and Planetarium will remain open throughout the development, which is predicted to take six weeks starting the first week of June 2020.
During this period, visitors will have access to the lower exhibition floor, live science show space and planetarium.
More information about the development plans will be announced in the new year. You can read all about the centre's educational offering at www.winchestersciencecentre.org