The Wild Place Project in Gloucestershire has introduced a new trail, featuring 20 bear sculptures to celebrate the opening of its new bear enclosure.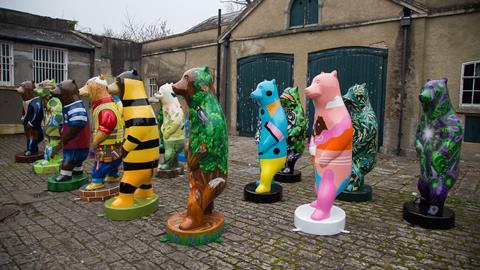 The new trail allows school children to follow a route around the animal park and discover six foot tall bear sculptures, each of which has been individually designed and decorated by a team of artists.
There will be 20 sculptures to discover along the trail which is now open to visitors. It marks the arrival of a new attraction at the Wildlife Park in Bristol, set to open later this year, featuring bears, wolves, and more.
About the new trail
It is being run in conjunction with Wild in Art, which also developed the successfull Wow! Gorillas trail at Bristol Zoo Gardens in 2011.
Nigel Simpson, head of operations at Wild Place Project, said: "The bear sculpture trail is a fantastic collaboration between Wild Place Project and many of our partners and supporters.
"It promises to be an exciting discovery trail around the attraction as visitors will be able to tick off the bears as they find them, and take part in activities associated with the trail. It will be a wonderful prelude to the arrival of real bears later this year."
The sculpture trail comes ahead of the arrival of real European brown bears at the attraction, as a new exhibit called Bear Wood opens at Wild Place Project in July.
About Bear Wood
Visitors will be able to walk through the seven and a half acre attraction on a raised walkway that will wind its way through the trees. New, 180-degree, floor-to-ceiling glass viewing areas and 'dens' will give visitors an up-close view of the animals living alongside each other in British woodland as they would have done in years gone by.
Bear Wood will transport visitors back to a time when these creatures roamed the UK countryside, taking them on a journey through the ages, to the present day, while showing the effects of woodland loss on our native wildlife.
Bear Wood is the story of what was, where we are now and what is still at stake. It will inspire visitors to protect our woodland for the native species that call it home, whilst helping to preserve this vital woodland habitat for future generations to enjoy.
To find out more, visit www.wildplace.org.uk/bearwood.
Schools at Wild Place Project:
Wild Place Project welcomes school visits and can cater for all Key Stages.
Hands-on learning sessions are available as well as team building challenges for all years.
The attraction can also cater for SEN groups and learning through play is strongly encouraged.
Free teacher planning visits are available.
Free teacher resources can be accessed.
Seasonal visit offers can be found on the website.
Teacher inset days can be booked.