The producers of the West End production have announced that Noah Thomas will make his professional debut as Jamie New in January 2020, with school rates available.
The stars of the West End musical made a surprise appearance at the 2019/20 School Travel Awards, with the current Jamie (Layton Williams) taking the production on tour from February next year.
Noah Thomas will take the reigns from 6th January at London's Apollo Theatre, with producer Nica Burns, producer of the show, adding:"Noah was the 211th and final performer we auditioned for Jamie. After he'd sung the opening number and read the first scene, I was tingling with excitement. We had found our Jamie."
School groups of ten or more qualify for education rates to certain performances, with teachers able to make use of free resources for Key Stage 3 and above which cover themes in the show.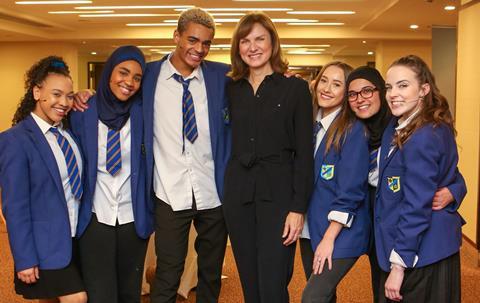 Introducing Noah Thomas
Noah's first experiences of theatre came at the age of five when he saw the shows Annie and The Lion King and seeing children like himself on stage inspired him to want to become a performer.
At the age of 14 he successfully auditioned for the BRIT School where he further honed his skills in acting, singing and dancing, leading to him getting a place at Mountview in 2017.
"If you want to inspire and truly challenge your students go and see Everybody's Talking about Jamie. I defy you not to cry and laugh at the same time!"

Anna Moody, drama teacher, Petchey Academy
Noah said: "What a whirlwind! Only two weeks ago I was studying at Mountview and had very little time to prepare for the audition, which I saw as a chance to gain some experience in the industry.
"I was asked back the next day, not expecting anything, and they asked me if I would like to play Jamie. I couldn't believe it.
"Nica told me to go outside the theatre and look up. It was then I realised that my face would be in lights on Shaftesbury Avenue. This is so surreal and I am so ready for whatever this experience holds."
About the show
The musical is based on the true story of Jamie Campbell, a 16-year-old boy from Sheffield who was hiding a big secret.
He approached a documentary filmmaker and asked if they would help him tell his story. The resulting documentary was seen by a theatre director and inspired him to create a musical.
The show opened in Sheffield before transferring to London in October 2017, where it has remained ever since.