Teachers, providers, TV personalities and MPs continue to add their voices to the campaigns to #SaveOurSchoolTrips and #saveoutdoored, and we banged the drum through our Oct / Nov edition.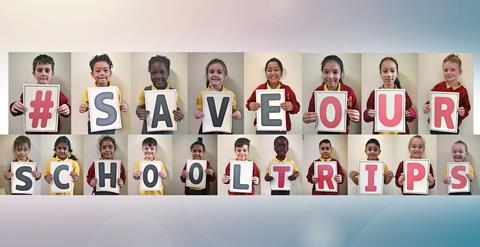 There has been a huge amount of support for the school travel and outdoor education sector in recent weeks, highlighting how vital it is that action is taken now to ensure children don't miss out on such important experiences.
Across the board people have been talking about why these experiences matter and how devastating it would be to the sector and future generations if things don't change soon.
We asked for your photos showing your support for #SaveOurSchoolTrips and #SaveOutdoorEd and you didn't disappoint, we've been flooded with responses on social media about why it's important to you.
TV presenters Kate Humble and Paul Rose have spoken of their own experiences of school visits and the impact they had on them as youngsters.
Special edition of School Travel Organiser
Because readers and providers demonstrated such support for the campaigns we created a special front cover for our October / November edition.
Plus, there was more coverage to the cause inside the magazine with some of the many photos we've received from teachers, school tour operators, outdoor education centre staff featured.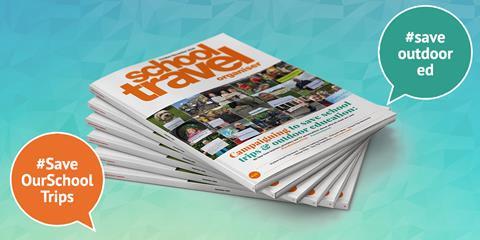 Click to see the digital E-magazine
Jamie Kelly, deputy headteacher of Chantry Primary School in Luton told us: "We should save school trips because the opportunities children have to learn outside the classroom make such a significant contribution to their personal, social and emotional development; something which at this given time, is more important than ever.
"Currently no child in the UK can attend an overnight residential whether that's a trip to London to learn about politics or a trip to North Wales to learn about the environment and develop social skills and life skills. I think we are failing our children and a generation."

Sarah Davies, primary school teacher in North Wales
Andrew Wright, headmaster at Bablake School in Coventry, said: "It has never been more important that pupils get opportunities to get outside and enjoy the outdoors and if centres close, pupils for many generations will not have the same life changing opportunities."
The Save Outdoor Education group has been asking children to write their own letters to the Education Secretary Gavin Williamson, the education select committee and their own MPs, to put their voices across. And the #saveoutdoored banner is now making its way across the country to highlight the variety of centres and venues that children are missing out on.
What is being asked for?
The sector has warned that unless the Government lifts the current ban on residential school trips soon, many providers will be forced to close with even more jobs lost.
This will mean that future generations will miss out on access to such experiences because there will be fewer providers.
More than 15,000 people have signed a petition to ask the Department for Education to change its guidance and allow overnight educational visits.
In a statement, the DfE said it agreed to review the position in November adding: "The Government continues to advise against the resumption of domestic overnight and overseas educational visits at this stage of the Covid-19 pandemic. Schools can undertake safe Covid-19 day visits.
"There is no doubt that the Covid-19 outbreak has presented significant challenges for children and for British businesses, including those in the residential sector. Children are missing out on the residential experience and the undoubted benefits that brings and providers of those services are understandably concerned about the viability of their own businesses and recovery of the sector.
"However, the Government's priority is to ensure that children remain in education with any measures put in place designed to support that ambition. In respect of the reintroduction of overnight educational visits, including residential trips, careful consideration has been given to measures that, on the one hand, open up the sector, but on the other hand, potentially increases the rate of transmission of the virus."
Key associations and outdoor centres have come together to urge the Government to consider that the sector can reopen safely. Gareth Davies, operations manager at Arete Outdoor Centre in North Wales, said: "We need guidance from the DfE now to allow our schools to book with confidence next year. We can operate safely because the lead-in times are so long."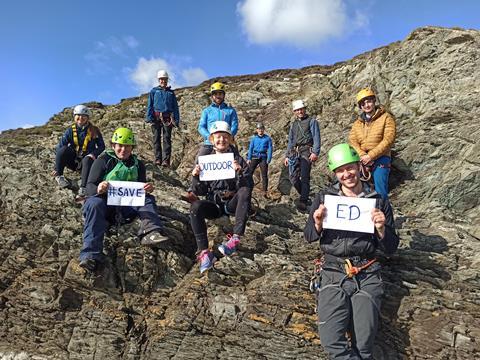 Andy Robinson, chief executive of the Institute for Outdoor Learning (IOL), encouraged people to get in touch with their local MPs to help support the changes and encourage the DfE to change its guidance.
He added: "We are still working to a review of current guidance in November with the aim of producing a road map to enable schools and outdoor education providers to plan and prepare for school residential visits in 2021.
"If we are to avoid another year of school children missing out on vital development opportunities we need to have that planning time. It's clear that a week on an outdoor residential can be worth more to some than a term's worth of development in school."
Discussion in the House of Commons
Tim Farron, MP for Westmorland and Lonsdale in Cumbria, raised the plight of outdoor education centres in the House of Commons. He said: "Outdoor education centres are a crucial part of our visitor economy. Outdoor education centres provide huge benefits in terms of personal development, education, physical and mental health particularly valuable and essential at this time.
"They are as safe to reopen as schools - yet they face imminent ruin and closure." In response, chief secretary to the treasury, Steve Barclay, agreed to alert the ministers in the DfE so that Mr Farron could meet with them.