Schools from across the country have been visiting Number 10 Downing Street to take part in a range of activities with the Prime Minister's wife Akshata Murty.
The Lessons at 10 is an initiative set up by Mrs Murty with the aim of providing children with the unique opportunity to experience what goes on behind the scenes of the famous black door of 10 Downing Street.
With the help of special guests, industry experts and incredible charitable organisations, Lessons at 10 hopes to bring education to life, encourage a love of learning and inspire children from across the UK.
Any school can apply to take part by filling out this application form, with the lucky few selected given the chance to see the home of the Prime Minister and enjoy a special workshop.
What some schools have done as part of the Lessons at 10 initiative…
Designers for the day
The Young V&A hosted a creative learning session for students from Woodland Grange Primary School in Leicestershire, at No.10 Downing Street as part of the initiative.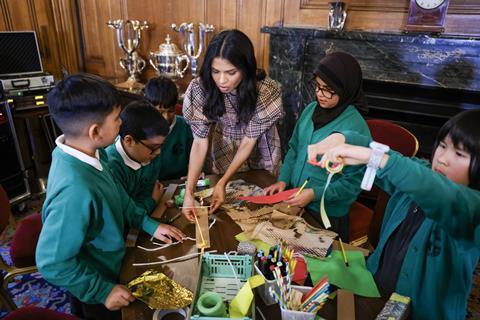 With play, imagination and design at its heart, Young V&A focused its lesson on empowering the Year 5 and 6 students to become designers for the day, tasking them with creating sustainable transport solutions for the future.
To help spark imaginations and inspire creativity, students were given the opportunity to handle a selection of objects from Young V&A's extensive display of 2,000 objects at its site in Bethnal Green, including a micro-scooter, Space hopper, roller skates, moveable toys, skateboards, and more.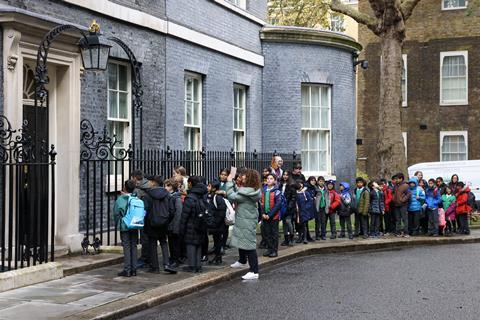 Working in small groups, students were tasked to select and draw an environment of their choosing – city, town, village, coastline, countryside – and challenged to design and create prototypes for a new mode of transport, which aims to protect people and the planet, using objects from Young V&A's collection to encourage thinking around how things are designed, made and used, and the ways in which design can be used as a tool for change.
Sparking an interest in farming
40 school children from Years 5 and 6 pupils at Countess Gytha Primary School in Yeovil, Somerset, were invited into Number 10 to explore the world of agriculture in a tailor-made lesson on food and farming.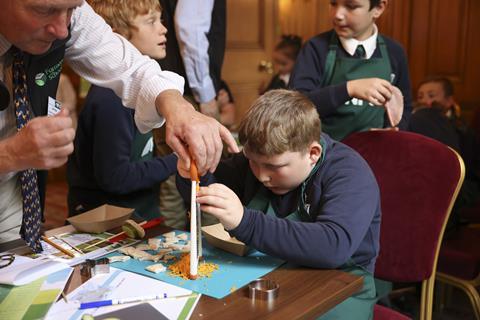 The lesson introduced the children to British food and farming through NFU Education's Farming STEMterprise project and challenged them to invent their own finger foods using a range of British ingredients. And the challenge didn't stop there – the children also had to market their creations and explain the many benefits of using homegrown British produce.
A London adventure
We caught up with Rachel Jinks, teacher and school council lead at Howard Park Community School in West Yorkshire, about her pupil's experience with Mrs Murty, and how they combined their trip with a visit to UK Parliament. Click below to read more.
Working in teams, they were supported by an NFU Education Farmers for Schools ambassador, who offered first-hand insights into how they produce high quality, climate-friendly, nutritious food. They were able to share their expert knowledge of their sectors in dairy, arable, horticulture and sheep farming.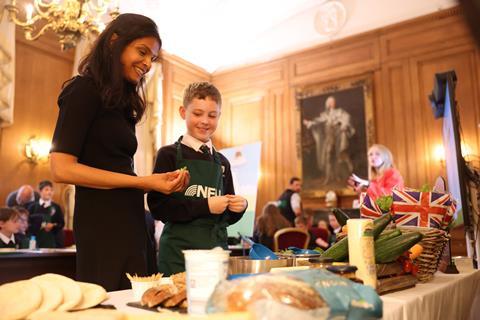 Exploring the wonders of space
The National Space Centre's education team were joined by pupils from Leicester's Badgerbrook Primary School, who got stuck in with making Lego robots to programme, handling a meteorite sample and launching their own rockets.
The school also got to listen to a talk from Mrs Murty, members of the UK Space Agency and Dhara Patel from the education team about careers in the space industry, and why they should be excited about the future of space research and exploration.
Between learning about infra-red satellites and sniffing the smells of space, the group also had time for some picture and even got to spot Larry the cat.