The JORVIK Viking Centre in York has announced extra measures to support schools while the attraction is closed, including a free week of online activities and live-streams in February.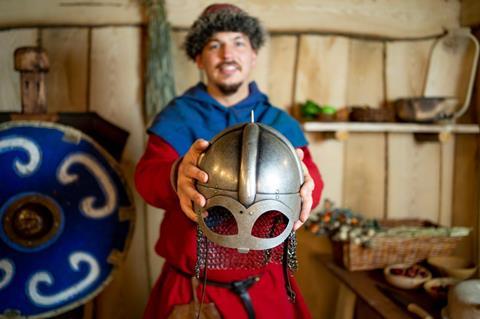 Running from 15th - 20th February, That JORVIK Viking Thing for Schools will include live streams and other interactive activities to help pupils while they study at home, with a free preview available from 8th - 12th February.
Gareth Henry, events manager at the JORVIK Viking Centre, said: "We took the decision in the autumn not to host the annual JORVIK Viking Festival in February 2021 as the risk of bringing thousands of people to York during the pandemic were just too high, and with lockdown potentially lasting until the end of February, this was clearly the right decision.
"The Festival will be replaced with an online event called That JORVIK Viking Thing, but this has given us a great opportunity for schools to have a sneak preview of some of the content during the week before half-term (8th - 12th February), with free live-streamed sessions hosted by our Viking interactive team adding some extra focus to the week."
Live-streamed sessions will be hosted daily at 10am and 2pm throughout the week, with pupils able to watch from home on a dedicated website. School pupils will also be the first to see a 360-degree virtual visit to the recreated Viking-age streets of Coppergate that form part of the visitor attraction.
Gareth continued: "Whilst we can't quite manage to offer the aromas of the 10th century, we have used cutting-edge technology to create a virtual visit to our attraction, where children can travel around the ride accompanied by one of our Vikings, Arnor."
"The virtual workshop not only opens up the experience to local schools who are missing their visits, but also schools all over the world, for which a visit would be impossible."

Gareth Henry, events manager at the JORVIK Viking Centre.
Other videos being released early include a series of 'Meet the Vikings' films, where costumed interpreters explain the roles of many of the characters that would have worked in Viking-age York, and a series featuring children's authors reading from their Viking-themed books.
Outreach sessions
Alongside That JORVIK Viking Thing, the education team are continuing to support schools with virtual outreach sessions, where pupils have an exclusive video call with any one of a host of characters, from Viking warriors and traders, to medieval medics and contemporary archaeologists.
The sessions can be delivered across a number of online learning platforms, including Google Classroom and Zoom, and are also suitable for pupils logging in remotely while learning at home alongside key worker children in the classroom.
Bespoke pre-recorded 'Meet the Viking' sessions are available for schools if teachers have any concerns about connectivity. A host of other 'learn from home' resources can also be accessed on the JORVIK Viking Centre website.