The experience, which showcases animated versions of more than 200 Vincent Van Gogh paintings, has extended its run in York and will also open in Leicester.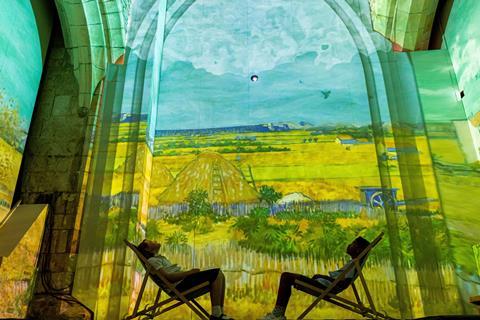 Van Gogh: The Immersive Experience has welcomed more than 50,000 visitors since opening last summer, and will now run at York St Mary's until 19th April.
The attraction will open at Leicester's All Saints' Church from 7th February, with both experiences offering discounted rates for visiting schools, as well as educational packs covering all Key Stages.
Linking to subjects such as History, Art & Design, Language, ICT and Geography, the 35-minute show centres around the main nave of the deconsecrated church in Yorkshire, using its stone arches and high ceiling to effect.
A specially written soundtrack is accompanied by the animated works, with pupils encouraged to sit on the reclined deckchairs provided to 'sink into the environment'.
At an extra cost, children can also take part in a virtual reality experience at the end of the visit, taking them through a day in the life of the artist in Arles, seeing the locations that inspired some his most famous works.
Mario Iacampo, creative director, said: "York St Mary's is a wonderful venue for this kind of immersive digital art – right in the heart of the city for easy access, yet able to be adapted so visitors feel as though they are in the French countryside, or overlooking the Rhône, during their time with us."
More useful information
Visiting teachers go free (four adults free for every 20 children), with the resource pack available covering before and after content.
Art teachers can arrange a free familiarisation trip for a specific time slot and the attraction will do its best to accommodate the request.
There will also be quieter, friendly sessions on selected days for SEND (Special Educational Needs and Disability) pupils.