The London West End production of Wicked has launched a new teacher/learning resource which includes free lesson plans, savings on tickets to see the show and help with planning school trips.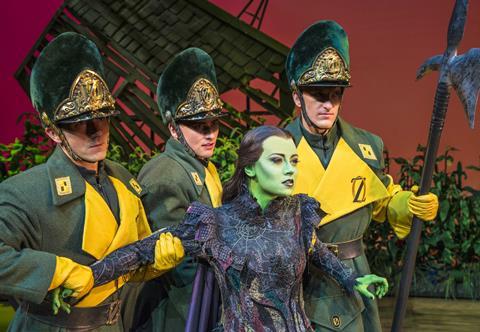 Wicked Active Learning has been created with teachers and aims to provide children with a range of opportunities for learning outside the classroom while also equipping teachers with being able to deliver a broad and rich curriculum.
Free downloadable resource packs are available on the website and cover topics provoking discussion about the staging, themes and story of Wicked which can be taught in support of spiritual, moral, social and cultural (SMSC) development, personal, social, health and economic (PSHE) education, and the subject of citizenship.
Other free resources for teachers include:
Theatre-maker career videos; students can hear from people in a host of different roles including Wicked's associate director, dance supervisor and those responsible for lighting, wardrobe and sound.
A 20-page guide to help with planning trips (including information to support the completion of risk assessments).
Lesson plans (currently including secondary English, secondary drama and intermediate ESOL/EFL English), together with anti-bullying resources developed in partnership with the Anti-Bullying Alliance, and diversity, inclusion and wellbeing resources developed in partnership with Twinkl.
There are also options to combine a trip to see the musical with an official workshop or Q&A session.
About Wicked
The London production is now in its 17th year at the Apollo Victoria Theatre, where it has already been seen by more than 11 million people.
It tells the story of an unlikely but profound friendship between two young women who first meet as sorcery students at Shiz University: the blonde and very popular Glinda and a misunderstood, green-skinned girl named Elphaba.
Following an encounter with The Wizard, the friendship reaches a crossroads, and their lives take very different paths. Their extraordinary adventures in Oz will ultimately see them fulfil their destinies as Glinda The Good and the Wicked Witch of the West.
Michael McCabe, UK executive producer of Wicked said: "We recognise and value the benefits of creative education and do all we can to encourage participation in creative arts subjects, artistic expression, and cultural attendance.
"Alongside our ongoing charitable endeavours, we are pleased to provide free classroom resources and lesson plans for all schools, as well offering over 60% savings on class and year group tickets, and free teacher ratios in support of learning outside the classroom, personal development, and the delivery of cultural capital.
"Our story of identity, prejudice, propaganda, and friendship continues to resonate strongly with schools, and we are grateful to the many teachers whose invaluable contributions and guidance have helped shape these lesson plans and resources, as well as for their shared vision and passion to deliver quality arts education and engagement for all."