Outdoor education provider Inspiring Learning has announced that the Ultimate Adventure Centre (UAC) in Bideford has joined the group's list of outdoor education campuses.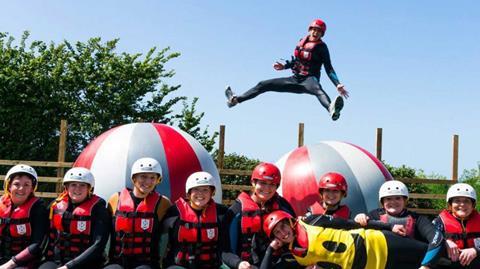 The North Devon site is two miles from the coast and is said to have an extensive range of outdoor activities plus varied accommodation options totalling nearly 300 beds with large cafeterias and function spaces.
UAC has a variety of booking options for all Key Stages, including day trips, residentials and after school clubs.
The centre is open for bookings throughout the year and the team can create a programme which is tailored to the requirements and budget of an individual school's needs.
Just some of the activities on offer at the site include a high ropes course, water zorbing, mountain boarding, surfing, archery, coastal walking and team games to build friendships in the peer group.
Location is key
Inspiring Learning says that it believes in the value and potential of North Devon, first with its investment in Skern Lodge in 2017, and now complemented by the acquisition of UAC.
The provider looks after a number of brands which provide outdoor learning opportunities to young people of all ages including Kingswood, Skern Training & Skills and Camp Beaumont.
UAC will be managed under the guidance of Skern executive director Richard Thomas who has more than 20 years experience in the outdoor learning industry.
Richard said: "The combination of Skern Lodge and the Ultimate Adventure Centre will enable us to build on our collective expertise and enhance the range of activities and facilities we can offer.
Alex Williamson, CEO of Inspiring Learning, added: "We're extremely proud to have added a new centre in North Devon, building on our strong presence and heritage there as providers of outdoor learning programmes that develop resourcefulness and resilience for all participants.
"We have a commitment to delivering quality experiences and exceptional outcomes and we look forward to working together to share best practice and expertise across the entire Inspiring Learning Group."