Chester Zoo will provide free entry to 35,000 school children later this year, as part of a campaign to inspire a new wave of conservationists.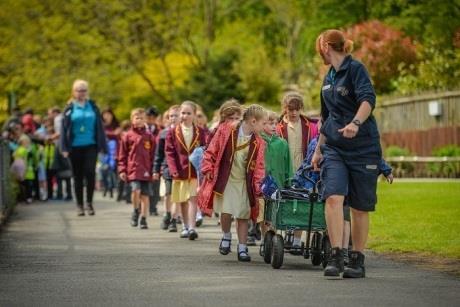 This is the second year the zoo has offered free school places, after a successful trial in 2017. A visit can tie in with a variety of subjects from Geography to Science.
Conservationists hope that a visit will be the start of a lifelong conservation journey for many school children, some of whom could go on to play a crucial role in preventing the extinction of wildlife for years to come.
The zoo initially allocated some of the free places earlier this year but is now opening up the scheme more widely and is encouraging schools who have not taken up the offer before to apply.
Charlotte Smith, head of discovery and learning at the zoo, said: "Inspiring a new generation of conservationists could be the key to preventing the extinction of species in years to come.
"We want to encourage as many children through our gates as possible and we hope to remove as many barriers as we can to create opportunities young people may never have had before. It is time to act for wildlife."
The free school places scheme is available for pupils from reception age to year 13, for weekday visits between December 2018 and 28th February 2019, during the Cheshire West and Chester region term time.
School groups are advised to book early via http://www.chesterzoo.org/education/all-you-need-to-know/booking-your-visit.
A range of workshops are available at an extra cost too and free post-visit learning resources are also available for schools.
For more information, visit www.chesterzoo.org/education.