We report back from an educational visit training experience like no other, where teachers and EVCs explain to School Travel Organiser the benefits of cooperative planning when it comes to school trips.
You're two minutes away from border control at the Euro Tunnel Le Shuttle in Folkestone and one of your pupils is missing their passport - what do you do? Holiday makers may panic, but for teachers this isn't an option. Staying calm and coming up with a solution is key.
This very real scenario was just one of the many tasks given to a group of nearly 40 school staff members on EVOLVE Advice's EVC and immersive training trip to Chateau d'Ebblinhem near St Omer, a school residential centre in northern France operated by school travel provider NST.
EVOLVE Advice provides support for all types of educational visits, offering training on how to plan effectively and what to do while away from school in certain situations. Our coach was transformed into a loud hall at break time, as everyone sparked into action to find a solution to the missing passport.
Questions flying around me on the coach included: "have you double checked your bag?", "when do you remember seeing it last?", and my favourite: "have you looked under the seat?" – simple yet important. Luckily this was only a training exercise, and everyone made the short crossing just fine, but for school staff it's about preparing for the unexpected on an educational visit.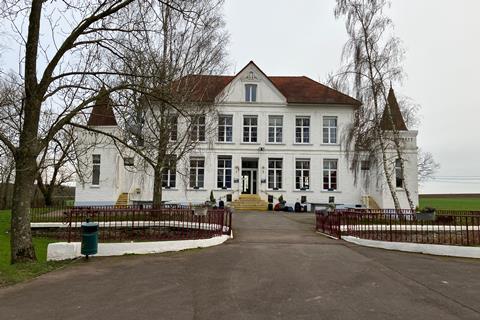 The 'scenarios' during this visit were all about thinking on the spot, blended into a full itinerary to sample French culture and see Nausicaá, Europe's largest aquarium.
Thought up by educational visits advisers Jake Wiid and Andy Smith of EVOLVE Advice, the pair wanted to create an experience that emulated extreme but very common problems on visits, in a safe space to prepare for every eventuality.
Jake said: "We wanted scenarios that would fit in with the itinerary, but also something that could arguably be the most stressful problem in that situation in real life. We wanted to showcase more extreme cases in a safe environment where teachers and EVCs can't get it wrong."
Importance of meeting like-minded people
It was a pleasant journey to Chateau d'Ebblinhem after the 'lost passport' discussions, and those on the trip spent the evening finding their bearings and getting to know other teachers which proved to be one of the most important exercises of the whole experience.
Lee Summers, assistant head at Wymondham College in Norfolk, said: "By meeting different teachers and EVCs from a variety of different schools with all backgrounds, it's enabled me to think about our own trips, take on board comments from others and reassess how our practice can be the best it can possibly be."
"I think it's really important you have those conversations with other teachers because it's easy to get stuck in your own way of doing things, and not explore what else is out there. You also get to know if certain things have gone wrong on their trips and how they dealt with it."

Lee Summers, assistant head at Wymondham College
Becky Baldwin, EVC at Castle Manor Academy, agreed and explained that the role of an EVC can sometimes become "quite isolated". She said: "The most important thing for me was coming along and meeting like-minded people. I don't think I've ever spoken so much about my job for three days straight. It's been nice to network and learn from others."
Matt O'Grady, headteacher at West Horndon Primary School in Essex, said: "We can always learn from each other, and it was a great networking opportunity. There will be a lasting benefit as we all have a group of colleagues we can go to for advice and second opinions."
A visit full of discovery
Archery Tag was first on the agenda the next morning, with the group split in half to channel their inner Robin Hood or take part in a Risk Assessment training session, before swapping. Arrow tips are cushioned with marshmallow-like sponges so it's perfectly safe when arrows begin to fly in pursuit of victory.
In the training session, groups were tasked with how to create an effective risk assessment using the STAGED approach (Staffing, Transport, Activity, Group, Environment, Distance) which is an expansion of the National Guidance.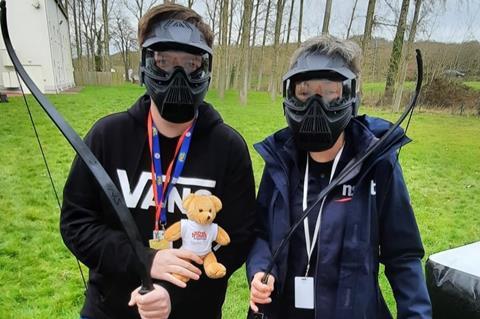 Maurice Monteith, boarding house master and EVC at Rugby School, said: "Risk assessments are only useful if they are being implemented effectively and adapted should things change. It's my job to make sure those standards are met so students can benefit from that great part of school life."
"The training session really stressed that the risk assessment is collaborative. It's not just about the trip leader coming up with something, it's about the team sitting down and thinking through what the real risks are and how we manage those dangers together."

Maurice Monteith, boarding house master and EVC at Rugby School
The group then visited the nearby historic town of St Omer, where they split up to test NST's town trail. Tasks included finding out how much a baguette was, what the name of the chocolate shop was and taking a picture inside the cathedral – which is the very building Notre Dame in Paris was based on. The idea behind this is to give visiting pupils independence to explore the town and soak up French culture.
One scenario in the town highlighted what to do if a pupil were to go missing on an excursion. Groups spoke about the importance of retracing steps and talking to other pupils who saw them last, before calling the police after 15 minutes if they haven't been located.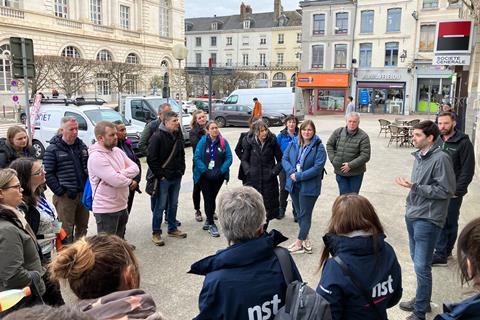 A whistle-stop tour of Nausicaá was up next in Boulogne-sur-Mer so teachers could get an idea of how the aquarium can cater for school visits. As well as self-led options, there are up to six educational workshops to choose from. I also recommend spending time in front of the huge glass viewing window with students – it's breathtaking!
Another evening training session took place before dinner and a fun quiz followed that was well received. Our guide Ryan also brought out several World War One artefacts found around the area that we were able to handle.
On the final day, the group learned how quality chocolate was made at Les Chocolats de Beussent, with plenty of tasting opportunities. Our guide was charismatic and really helped the group visualise the process and art of chocolate creation from cocoa bean to sweet treat.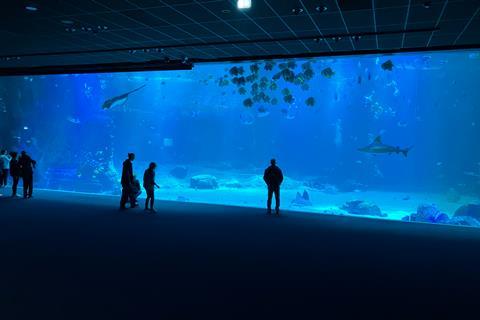 For NST, which partnered with EVOLVE Advice to create the itinerary, the experience was not only to showcase what the team can offer schools, but to also boost confidence for those organising school visits and showcase why school travel providers are a must for any type of trip.
Linda Green, who works for NST, said: "It's important for us as a provider to show teachers who want to take children away on a visit that we can make life as easy as possible for them by supporting them every step of the way."
"We want all the teachers who came along on this experience to leave feeling confident that they can take a group of students away, even if it's for the day in the UK."

Linda Green, NST
Emma Davison, brand manager for NST, continued: "It was lovely to talk to more people about what a school travel provider can do for them and find out more about their individual needs
"Every school trip is bespoke so for them to be able to ask as many questions as possible over the course of the trip was great.
"We can do all of the worrying for them behind the scenes and make things happen while the group leaders can focus on their students enjoying the trip."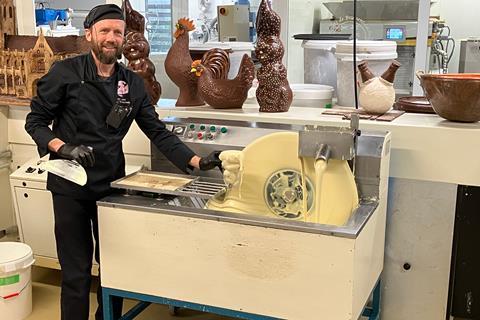 Teacher highlights
The experience proved to be incredibly "valuable" for Maurice Monteith who said: "As an EVC it's easy to get bogged down in a lot of admin, but this trip has highlighted that it's really important to get out there and get really involved with the trip to make sure what happens away from school bears some relation to what is planned.
"It's been a really valuable experience and it's been really good to meet other people who do similar jobs in a wide range of schools. The balance was just right between training sessions and excursions and I'm leaving with an even bigger sense of enthusiasm for educational visits."
Lee Summers, who explained that his school has two visits coming up to Kenya, said: "The best bit of advice I've taken from the trip is to prepare well."
"By overpreparing and creating a detailed risk assessment that aims to cover every possibility, it allows you to be a bit more confident in delivering the experience well for students and deal with anything that may come up."

Lee Summers, assistant head at Wymondham College
Matt O'Grady added: "As a busy headteacher it was great to have a few days just to focus on the important EVC aspect of my role.
"Having been an EVC for a number of years it was great to refresh my training in a new context. The opportunity to resolve problem scenarios 'in real time' with immediate feedback was invaluable."

With experience working in education, Harry knows the impact school trips have on the children involved. He covers the latest news stories and features for STO and is always on the look out for case studies to feature from teachers.