A visit to Hever Castle & Gardens in Kent, the childhood home of Anne Boleyn, offers an informative educational history trip and provides a stimulating opportunity for learning outside the classroom.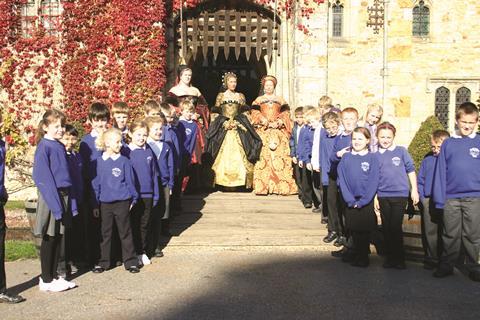 Itinerary: Private Guided Tour
Provider: Hever Castle & Gardens
Subject: History
KS: 1-2
A Group Visits Coordinator will be happy to talk through the best type of visit to suit your class's learning objectives. Teachers can choose to book a private guided tour of the Castle, a free-flow visit where you can lead your class around the Castle and Gardens at your own pace or include a workshop or pre-booked multimedia guide for children.
Once a trip has been booked, two teachers can go for a free visit to Hever Castle and download the School Pack which includes a host of classroom resources, teacher's notes, maps, and health and safety information.
10.15am: Arrive at the Coach Park next to the main entrance and collect tickets for the Castle & Gardens. The group will then be accompanied down to the Castle by a member of staff.
10.30 - 11.30am: The group will enjoy a private guided tour of the Castle. If it is a large group, they will be divided into smaller groups of 25 children per guide.
Have you ever wondered what the cure for nausea was in medieval times? The children's school groups tour will tell you this and more as it focuses on life in medieval England and some of the weird practices people went through every day. Young visitors also follow the story of Anne Boleyn, Hever Castle's most famous (and unluckiest) resident who became the second wife of the notorious King Henry VIII. Tours can be tailored to focus on particular themes and topics on request.
11.30am: Time to explore the stunning gardens where Henry VIII is believed to have fallen in love with Anne Boleyn. Explore the 100-year-old Yew Maze, be captivated by the Miniature Model Houses exhibition or learn more about the Kent and Sharpshooters Yeomanry at the Military Museum.
12 - 12.45pm: Lunchtime.
12.45pm: Burn off some energy in one of the three play areas at Hever Castle. Children can let their imaginations run wild in the natural Acorn Dell play area, enjoy the swings and zip wires or keep the historical theme going by exploring the Tudor Towers adventure playground, set up to be a castle under siege.
If the weather is nice there may still be time to explore the Water Maze - can you and your class get to the middle without getting wet?
2pm: Depart.