A large group of high-flying youngsters enjoyed an unforgettable trip that gave them a birds' eye view of their home city.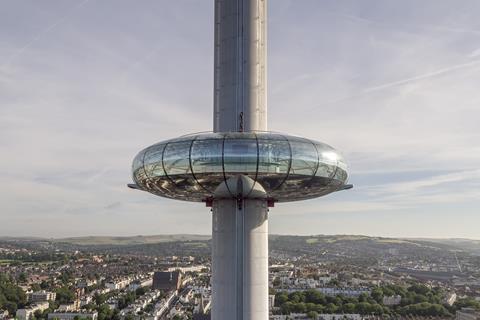 School: St Andrew's C.E. Primary School, Hove, East Sussex
Subject: STEM
Age group: Early Years
Number of pupils: 90
The entire reception year from St Andrew's C.E. Primary School embarked on a 'flight' on British Airways i360, the landmark attraction on Brighton seafront that opened in 2016. In addition to being able to spot their school and church, many were also able to see where they lived.
KS1, KS2 and Reception pupils from the school had enjoyed the experience the previous year when the whole school was given free tickets for a flight on British Airways i360. Gliding up gently from ground level to a height of 450ft, they were divided into groups to ride in the futuristic glass pod that carries up to 175 passengers at a time.
"This year we were very kindly given tickets for the new Reception year," said Early Years leader Jo-Anne Gibson. "We took all 90 four- and five-year olds and had the pod to ourselves. We were doing a space topic and we linked the trip to space. This was the opportunity for the pupils to 'blast off' up into the sky and it fitted really well with our topic."
British Airways i360 is an inspiring venue for children of all ages and abilities and the pod is fully enclosed and climate controlled. Children are free to walk around and take in 360-degree views across Regency Brighton and Hove, the South Downs National Park, the English Channel and the Sussex coastline. On a clear day it is possible to see all the way east to Beachy Head, 17 miles away, and even to the Isle of Wight, 49 miles away to the west.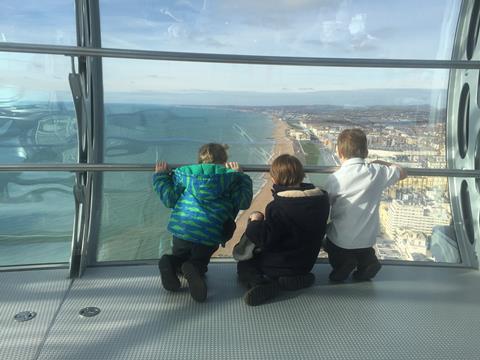 Jo-Anne said: "Before the trip we brought up Google Earth to look at the local area and what we could expect to see. When we arrived we looked at the exhibition which shows how the i360 was built and the children enjoyed looking at all the pictures. Then we boarded the pod for the 25-minute flight and it was really exciting for them as we went up and down, especially as it is all glass. Many of them lay down on the floor and really felt as if they were flying.
"From an organiser's point of view it is a fantastic trip to do as the whole group is contained and enclosed, making it very easy to organise and very safe."
The attraction is situated at what was once the end of Brighton's now-derelict West Pier and two of the original 1866 tollbooths have been reconstructed to house the ticket office and the West Pier Tea Room. Since opening, the attraction has won numerous prestigious awards for innovation and design, and older pupils can learn more about the design and engineering aspect in the exhibition.
"It was very interesting for us as we are a local school and all the children had seen the tower but many hadn't been up it," said Jo-Anne. "But it would be equally interesting for any school to see the land, sea and sights from a totally different perspective, and it could be combined with a visit to the beach for schools based inland that don't normally go to the seaside. It is something that is very different and we would definitely go again."
There are outdoor picnic areas either side of British Airways i360, which are ideal for a packed lunch, and schools can made a full day out by visiting other nearby attractions such as Brighton Palace Pier and the SEA LIFE Centre, which are both only a ten-minute walk away.
Discounts are offered to educational groups of 15 or more, with one complimentary teacher place per 15 paying pupils. Smaller groups can also be accommodated. British Airways i360 operates year round, apart from a two-week closure for annual maintenance in January. There is a coach drop-off and pick-up point opposite the attraction.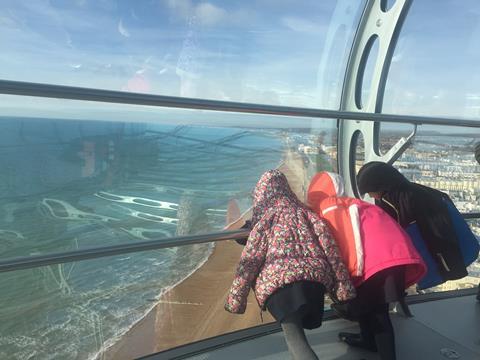 Back in the classroom
The trip provided the youngsters with plenty of food for thought and Jo-Anne said it stimulated writing and other exercises.
"We looked through all the photos and talked about what we had seen and done," she said. "There were lots of speaking and listening activities and it was the inspiration for writing. The children all wrote down simple sentences about the trip and it gave their writing a meaningful purpose."
Useful contact:
British Airways i360:
03337-720 360
www.britishairwaysi360.com