Deputy editor Harry Rogers went along to the Etihad Stadium to find out about some of the workshops waiting for schools when visiting the home of England's champions.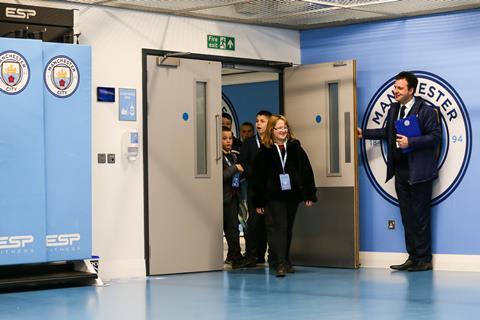 What makes a school trip to the Etihad Stadium that little bit more special is that it's more than just a stadium tour, as we found out on our own visit to sample what's waiting for schools in Manchester.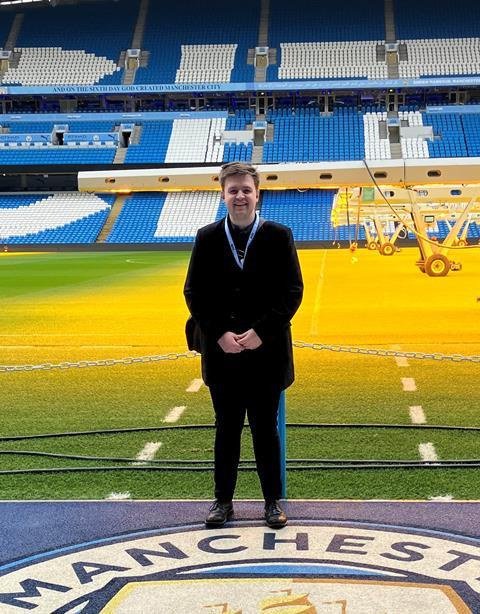 There are four specialist workshops to choose from which all link to some form of real-world work. They use the stadium's facilities to create a memorable day which involves your standard stadium visit access like the dressing rooms and going pitchside, to more modern additions like a virtual interview in the press conference room with manager Pep Guardiola.
All visits begin in the store where a small museum highlighting the club's creation and achievements is followed by a 360-degree film to give groups context. This room is incredibly striking, with floor to ceiling screens which project footage on every available space. From there, each tour then follows a certain route depending on which of the following four workshops you're doing: Match Report, Day in the Life of a Footballer, Stadium as a Business and Urban Regeneration.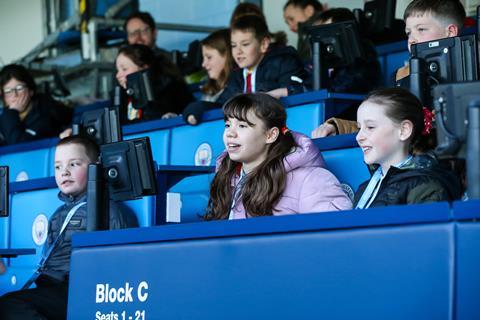 Aspiring journalists among your class will want to take part in the Match Report (KS2, 3 & 4) workshop where they will tour the stadium in the eyes of the press. They'll see exactly where reporters sit during a game, and compose, rehearse and perform an interview scenario in front of the sponsorship boards just how the professionals do. Children will also grab a sneak peek of the press lounge.
3 tour highlights
Take time to look through the mirrored glass in the players' tunnel. Behind is the luxurious hospitality area known as 'The Tunnel Club', where, on a match day, fans can see right through into the tunnel and feel as if they're alongside the players.
The first team's gym with state-of-the-art equipment.
The press conference room, where students will be able to sit alongside a virtual Pep Guardiola and answer questions as if it was a match day.
In the Stadium as a Business session (KS3 & 4), students will explore the huge amount of revenue streams involved when fans visit the ground for a match, while also uncovering the variety of jobs on offer, from programme sellers to hospitality employees, and how each role leads to the profitability of the club.
Andy Begg, who leads the stadium tours, told us: "In this workshop we give students an insight into some of the different roles available in the professional environment, especially in a football club. I think it can be easy to overlook some of the amazing roles there in the industry."
"This is quite an inspiring place to come - it's getting children out of the classroom and witnessing how a Premier League-winning club operates."

Andy Begg, stadium tours lead
The Day in the Life of a Footballer (KS2 & 3) lesson follows a current player from the moment he wakes up on a match day through to going home, having trained, eaten right and focussed on his job. It's here that Andy said: "It's amazing to watch the penny drop when students begin to realise they're sat in the exact same spaces that the current players train in."
It's also in this workshop that young people get to learn about the psychology which goes into the modern game, with guides highlighting a wall of pictures covered by a screen in the tunnel which belongs to the current first team squad. Everyone is invited to place an image of loved ones they are playing for on the wall to inspire them on the pitch - a nice touch!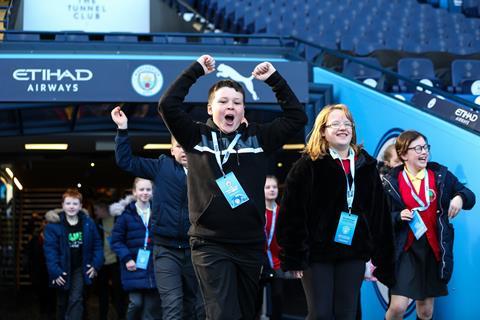 Finally, the Urban Regeneration (KS3, 4 & 5) workshop focusses on the regeneration of Manchester using the Etihad Campus as a case study. A 45-minute presentation showcases how the area has changed over the years and how it has to be adapted to meet the changing needs of modern society.
An adaptable programme…
Each education booking includes a specialist guide, exclusive content which is linked to the English National Curriculum and exam board specifications, plus risk assessments, free coach parking and lesson plans for before and after the trip.
Andy also explained that each session can be adapted to meet the needs of SEND (Special Educational Needs & Disabilities) students if required. He said: "We've also been developing relaxed tours and accessible experiences for visitors. The stadium is completely accessible to anyone who is a wheelchair user or has ability impairment, and we can adapt these offers for anyone who has sensory processing issues too.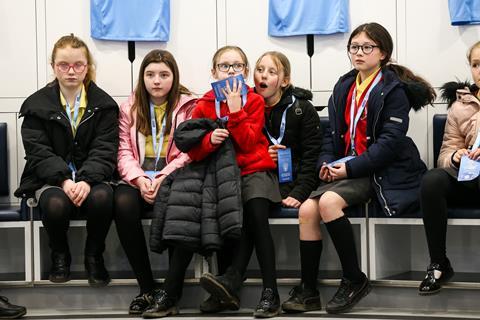 "The stadium also has a sensory box that the access team use on a match day with the aim of getting people out into the main stadium bowl using whatever support mechanisms they need to. We've already had several conversations with schools about future trips and how we can adapt our offer for their needs, and we always welcome further feedback to ensure that everyone has the best time possible."
Trips are also priced as low as the club's pricing structure will allow, meaning schools benefit from heavily discounted admission. Andy added: "If there are schools in the local area who want to come along but who may struggle to meet this, we do have a city and community department who can help provide free school experiences for those in most need."

Harry is the deputy editor of School Travel Organiser and its portfolio of magazines, publications and websites.
View full Profile