Liz Smallman, head of learning at Eureka! The National Children's Museum, introduces the attraction's new curriculum-focused All About Me Gallery, highlighting the social and enrichment opportunities it can offer to school groups.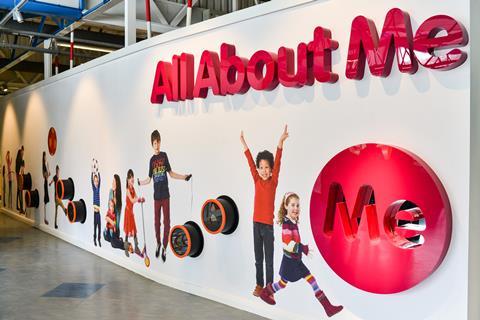 A re-invention of the hugely popular Me and My Body gallery, Eureka! The National Children's Museum in Halifax, West Yorkshire has opened its newest immersive gallery, All About Me.
The largest single gallery redevelopment in the museum's 21 year history, All About Me is an immersive educational experience that uses play, role playing and interactive displays to help children learn about their bodies and how to make positive choices that will help them look after themselves.
Captivate, stimulate and challenge students on your next school trip
Harnessing the very latest knowledge and techniques in playful learning to captivate, stimulate and challenge school children in science, health and well-being; the gallery celebrates children as confident individuals who can live safe, healthy and fulfilling lives.
Multi-sensory, hands-on exhibits encourage them to explore how their body works, and imaginative spaces and activities invite them to enjoy and understand how unique they are.
The curriculum-focused galleries and programmes also enable school groups to experience a range of social and enrichment opportunities and above all, to have great fun as students explore, play and learn.
Every space and experience has been carefully researched and designed by experts, working hand in hand with children themselves, with the aim of inspiring them to start questioning how the choices they make can influence their own futures, including being active and eating healthily.
Early Years Foundation Stage and the National Curriculum
Designed for Early Years and Key Stages 1 & 2, the gallery provides great links with the Early Years Foundation Stage and the National Curriculum - all wrapped up in fun and engaging experiences which will change and grow as school parties visit the gallery again and again.
The journey starts by making friends with the friendliest new robot in town, launching school groups into a world of why, how and wow as they embark on a range of investigative opportunities.
Measuring & Looking Closer: Children can measure their height, stride and reach; zoom in to see their skin close up; discover what they might look like when they're older; and find out more about the 'stuff' they're made of.
Health Centre: Students can take on the roles of a dentist (teaching their patients how to brush their teeth), a doctor (checking x-rays and scanning the body) and a midwife (scanning the mum's tum). Then report on the latest health news live from the TV Studio.
Our Brain & Senses: Children will find out more about their fascinating brain and make sense of the senses by using their own. They can explore a giant blinking eye (who's it following?), climb on the huge tongue (how tasty are they?), and look up a very surprising nose (watch out for the sneeze and the snot tanks).
Let's Get Active: Follow the gurgling journey of food through the digestion system from the chew to the poo, discover how the body changes by getting active on the climbing wall and interactive pond, investigate nutritious diets at the picnic tables and create a tune from burps, sniffs, coughs and sneezes using sound beams.
School travel information
School visits to All About Me start from the 16th April, and teachers can book the gallery as part of a Focus hour. A Eureka! staff member will be on hand to help educational organisers make the most of a school trip.
Visiting with an Early Years group?
For Nursery and Reception groups, you can visit the gallery in two ways:
Book a self-led visit in your Focus hour.
Book a supported visit in your Focus hour. You'll be met by a Eureka! Enabler in the Creativity Space and your journey will start with ten minutes of exciting activities and songs before you're taken into the gallery. This is an ideal option for teachers keen to focus on a particular theme.
All About Me teacher preview events
Teachers and school trip organisers can experience the new gallery at a series of special preview events, where you can find out more about the gallery from the Play & Learning team.
Preview events will be taking place on:
17th April (5pm - 7pm)
8th May (5pm - 7pm)
5th June (5pm - 7pm)
Teachers can also book a preview visit at a time to suit them by contacting the bookings administrator on the telephone number below.
Useful contact:
Eureka! The National Children's Museum:
01422 330012