A group of students who had never been on a residential trip embraced every opportunity that was presented to them - including trying frog's legs and snails - after their school won a visit to France.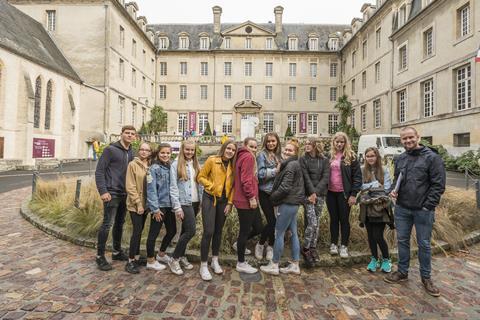 School: Sir Frederic Osborn School, Welwyn Garden City
Subject: Cross-curricular
KS: 3 and 4
Number of pupils: 27
Sir Frederic Osborn School submitted the top entry in the summer term competition run by operator Select School Travel for up to 30 students and four teachers to stay at Chateau de Baffy. It was judged in association with Elaine Skates, CEO of Council for Learning Outside the Classroom, and Rob Yandell, publisher of School Travel Organiser.
"I was impressed by the desire to offer a multi-subject trip covering History, Geography, French and RE, and the fact that this trip would fill a gap in what is offered; in this case, a residential for KS3 pupils." Rob Yandell, School Travel Organiser, on the winning entry
Select School Travel operates the Normandy chateau, which is ideally situated for a host of excursions including the D-Day landing beaches and wartime memorials, Bayeux Tapestry Museum, William the Conqueror's castle and the Joan of Arc Museum in Rouen.
The school's subject leader for humanities, Mike Broad, who submitted the entry, said: "I was really pleased as I don't normally win anything. This was a fantastic opportunity to offer our students, especially those who have not experienced any form of travel in the past."
The Year 10 and 11 pupils enjoyed an action-packed multi-curricular four-day trip filled with unique experiences.
"Not only did we get to go to France, we got the opportunities I thought I'd never get. An amazing trip." Rhianna
"The chateau was stunning and an excellent location as a base to explore this part of Normandy," said Mike. "We visited Honfleur, a picturesque and interesting town en route to the chateau and we all loved exploring the cobbled streets and old harbour."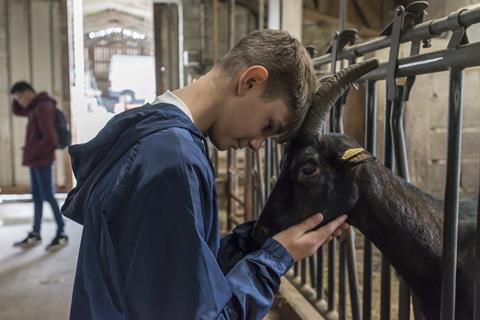 Varied trips from the chateau included watching the process of caramel making, followed by the all-important tasting, and visiting a goats' cheese producer to meet friendly goats and discover how the cheese is made. There was another mouth-watering visit to a chocolate maker and museum, where the students bought Mike a chocolate super hero for winning the competition.
Mike said: "Educational highlights included the chocolate factory, where there was lots of information about cocoa production and the trade, the Bayeux Tapestry, having taught this to Year 7 in the past, and visiting the towns of Honfleur, Bayeux, the various war graves and memorials. The 3D cinema at Arromanches was also excellent to gain a real insight into the war effort.
"My favourite bit was going to a caramel factory, especially as we got to try some!" Emily
"The students really enjoyed spending time with each other at the chateau, the chocolate and caramel factories and experiencing new and quite unusual things. They all tried frogs' legs and snails, they loved visiting the goats and some of them enjoyed the goats' cheese they had tried at the farm, while some did not! We had an awesome disco on the Saturday night as well."
Chateau du Baffy can sleep up to 110 in multi-bedded rooms, all with en-suite bathrooms. The chateau is a four-hour drive from Calais, which is easily accessible via ferry or Eurotunnel, and Select School Travel can assist teachers with every aspect of travel and itinerary planning.
Mike concluded: "A huge thanks goes to Select School Travel and the lovely staff at the chateau. They were so accommodating and great with our students. The food was also delicious. We all thoroughly enjoyed the trip and are looking to plan a future visit there next year."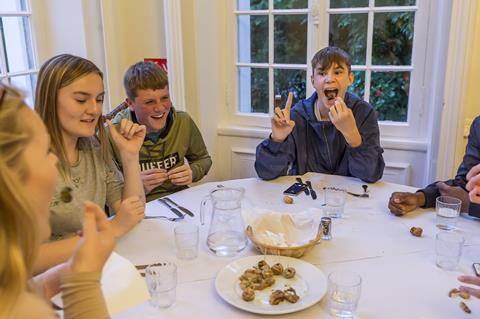 Back in the classroom
The inspirational trip was the springboard for a variety of written and oral work, along with creative activities.
Mike said: "The group has shared the trip experiences with other students and staff. They have written comments for the school newsletter and we have created a Humanities display board with many photos and written accounts. Some students have also created fantastic artwork following our visit to Bayeux."
Useful contact:
Select School Travel:
01444-870100
www.selectschooltravel.com
The 3D cinema at Arromanches was also excellent to gain a real insight into the war effort.