After winning the 'My Best School Trip' Award for its week residential in Cornwall, Grendon CE Primary School in Wellingborough used the prize money to treat the whole school to a summer fun day at Wicksteed Park. Head teacher, John Wayland tells us all about it.
In the short gap between the School Travel Awards ceremony and the end of the school year, we managed to book a summer visit to Wicksteed Park. The Grade II listed park in Kettering includes an amusement park within its grounds and almost everyone who grew up in Northamptonshire will have fond memories of it. With many new attractions, including rollercoasters and a log flume, plus original features, like the water chute and the railway, the park is still thriving after more than 100 years!
The prize money from the award funded the entire cost of the trip for all our pupils, right the way from Nursery to Year 6, and all were given wristbands to access all of the rides and attractions. The children had already been part of a special celebration assembly in school where staff shared photos and experiences of the School Travel Awards and the enrichment visits, over many years, that had ultimately led to the school's success in the competition.
The prize money from the award funded the entire cost of the trip for all our pupils, right the way from Nursery to Year 6.
Rides and activities were available for all ages – the younger children enjoyed the Ladybird Roller Coaster, Honey Pot Bears, Wicky Bear Show and Astro Slide, while older pupils preferred the Dinosaur Valley and the Rocky River Rapids. The children also took part in a relaxing trip around the park on the railway and one final ride on the traditional carousel to round off a brilliant day.
Above all else, the students reported that the highlight of their day was spending time with their friends. For many, it was their 'best day ever' and the beaming smiles we saw said it all. The timing of the trip meant that children had valuable time together and were able to fix some brilliant memories in place before their transitions to new classes and, for our Year 6 pupils, new schools.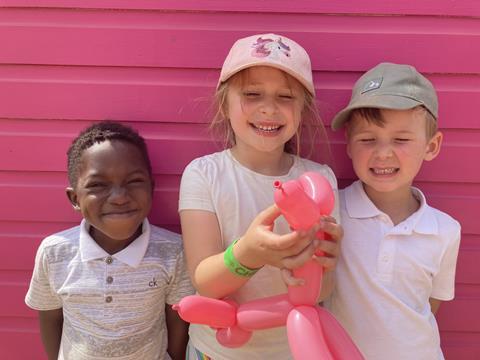 Learning outside the classroom is already a key priority of the school and the School Travel Awards has undoubtedly raised the profile even further. The award created a real buzz of excitement and has encouraged all members of staff to continue providing exciting and rewarding enrichment experiences for our pupils and also exploring new ways to innovate. The pupils won't forget their special summer fun day in a hurry.
The school would, once again, like to thank the School Travel Awards for highlighting the importance of learning outside the classroom and for choosing Grendon CE Primary School as the winners of this incredible prize.