Rebuilding teacher confidence and supporting schools to take their learning beyond the classroom will deliver a raft of benefits to children, says Justine Lee of The Council for Learning Outside the Classroom.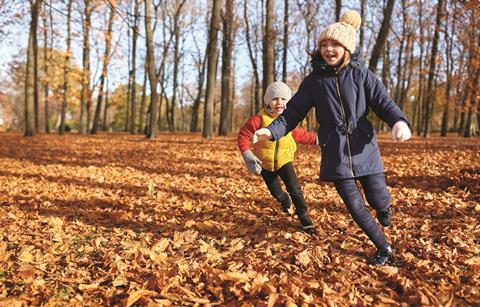 While the pandemic brought an abrupt halt to off-site educational visits and trips, more teachers than ever before have been taking their teaching outside the classroom in an effort to manage class interactions and infection control.
However, there has been some hesitancy to restart regular off-site visits and residentials after such a long absence. We know the value that school trips and residentials have – they bring learning to life, make learning relevant and memorable, increase confidence and provide opportunities for teamwork that aren't possible within the classroom.
Recovering from lockdowns
It is estimated that more than two million children and young people have missed out on a school residential since the start of the pandemic and it is vital that pupils have the same rich learning experience as their older peers.
Teachers have noticed the negative impact that lockdowns have had on their pupils, such as increased anxiety levels and difficulty working in teams. Children have become less resilient, less patient and give up more quickly. Outdoor learning and educational visits give students the chance to build their resilience and courage, as well as helping to rebuild relationships.
A lack of confidence amongst teachers to venture off-site, combined with changing and differing guidance between the home nations regarding educational visits has led to a reluctance for many schools to organise these experiences. Teachers need to be supported to undertake off-site visits and trips.
What can we do to rebuild confidence amongst teachers?
Schools in England can refer to the National Guidance for learning outside the classroom and educational visits. The National Guidance, which is produced by the Outdoor Education Advisers' Panel, aims to make it easier for teachers to plan and deliver these experiences.
The guidance covers all aspects of planning and managing outdoor learning and off-site visits – from ratios and supervision, to visit checklists and emergency procedures. The information is regularly updated, and includes specific guidance which relates to planning learning visits during the pandemic.
Schools in Wales can visit the Welsh Government website, and teachers in Scotland can refer to the Scottish Advisory Panel for Outdoor Education (SAPOE) for the most up to date advice for planning off-site visits and trips.
Look for the LOtC Quality Badge
In its Health and Safety Guidance for Educational Visits, the Department for Education (DfE) advises that schools use an organisation or learning provider that holds the LOtC Quality Badge. It states, 'checking that the provider holds the Learning Outside the Classroom (LOtC) Quality Badge is the easiest way to confirm that quality and safety has been externally accredited'.
The award covers all aspects of risk management, including infection control and the quality of learning provided. Having this accreditation reduces red tape and saves staff time, both of which are more important than ever.
Organisations holding this accreditation are automatically flagged as such on school trip management systems, such as Evolve. This can make it easier for teachers to get the necessary permissions and simplifies the planning process.
We also encourage teachers to look at how learning outside the classroom can underpin the whole curriculum. There's no getting away from it, organising educational visits takes time and takes staff (teachers and teaching assistants) away from school. However, these experiences support multiple curriculum areas and school priorities.
Encouraging your school team to integrate learning everywhere across the whole school and to grow a culture of learning outside the classroom can lead to greater support within the school, especially amongst senior leaders.
The Council for Learning Outside the Classroom offers free online guidance, resources, membership, accreditations and other support for schools and providers. Visit www.lotc.org.uk for more information and for more details about the LOtC Quality Badge visit www.lotcqualitybadge.org.uk or contact awards@lotc.org.uk.