Winchester Science Centre and Planetarium has teamed up with the Noël Turner Physics Festival to expand pupils' understanding of Science, Technology, Engineering and Maths (STEM) and Physics.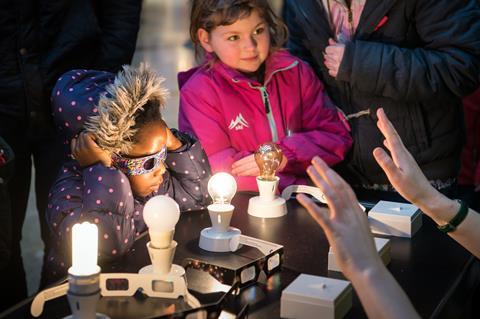 The aim of the two-day event, which will run on the Isle of Wight on 6th-7th February 2020, has been to engage and inspire children with the subject of Physics over the last three years.
Now, thanks to support from the Winchester Science Centre and Planetarium, the festival is looking to incorporate STEM into its theme, with help from industry providers on the island.
Winchester Science Centre's team will run a pop-up version the centre's experience on both days, complete with live shows, demonstrations as well as hands-on exhibits and activities.
The festival is expected to be attended by more than 3,000 children from the island and will provide tailored experiences for a range of Key Stages.
Ben Ward, CEO of Winchester Science Centre and Planetarium, said: "We're very excited to be working on the Isle of Wight to deliver next year's festival.
"Our charity is committed to engaging as many children as possible in STEM (Science, Technology, Engineering and Maths) and the festival provides an excellent opportunity to do this on the Isle of Wight."
More about school trips to Winchester Science Centre and Planetarium
The centre offers a variety of specialist 'discover' workshops for children, suitable for KS1-3.
Teachers can choose from Discover: Matter (KS1-3) which looks at investigating smart materials through slime and home-made bouncy balls, Discover: Rockets (KS1-3) where pupils will become rocket scientists by building and modifying a rocket, or Discover: Sound (KS2-KS3), which explores the physics of sound and allows children to make their own instruments. Other options are available.
More about Noël Turner

Noël Turner was a senior Radar Design Engineer at BAE Systems in a career lasting more than 30 years.
His problem-solving skills were utilised in his work on the Sampson Radar, which are now installed on the Royal Navy's Type 45 Destroyers.
Noël became the first person on the Island to achieve expert status in Scrabble and he regularly put his knowledge to the test on TV quiz shows such as Mastermind, The Weakest Link and Eggheads.
Noël died unexpectedly at the age of 56 in 2015. His widow, Ellen Weeks said: "The festival is a fabulous event and Noël would have been delighted that it engages so many young people across the Island."
You can find more information by contacting the festival event officer at Winchester Science Centre on 01962 863 791 or by emailing ntsf@winchestersciencecentre.org.