The musical, based on the children's novel The Secret Diary of Adrian Mole aged 13¾, will transfer to The Ambassadors Theatre this summer.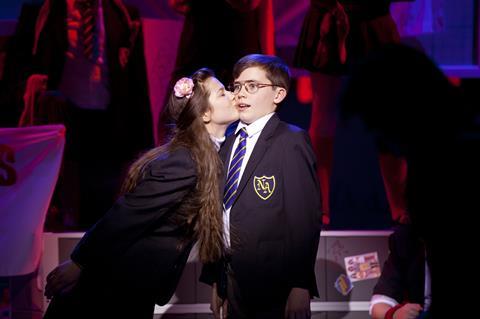 Adapted from Sue Townsend's book, The Secret Diary of Adrian Mole aged 13¾ - The Musical will open on 15th June, runing until 12th October.
Tickets are now on sale. Group bookings are available through ATG Tickets and teachers can call 02072 061174 for more details.
What is the musical about?
Set in 1980s Leicester, this show is a timeless tale of teenage angst, family struggles and unrequited love, told through the eyes of tortured poet and misunderstood intellectual Adrian Mole. One of the most enduring comedy characters of all time, he is the hapless, hilarious, spotty teenager who captured the zeitgeist of 1980's Britain, and this production brings Adrian's story to life for a new generation of theatregoers.
"Honestly. My family just don't understand me. Perhaps when I am famous and my diary is discovered people will understand the torment of being a 13¾ year-old intellectual."

Adrian Mole
The musical has book by Jake Brunger, music and lyrics by Pippa Cleary and direction by Luke Sheppard. Casting is to be announced soon.
Curve's chief executive Chris Stafford and artistic director Nikolai Foster commented: "It has been a great joy for all of us at Curve to see Sue Townsend's 'misunderstood intellectual' flourish under the inspired writing of Jake and Pippa.
"We are immensely proud that, after a triumphant opening in Leicester and acclaimed season at the Menier Chocolate Factory, Adrian, Nigel, Pandora and their motley crew are now rocking up in the glitzy West End.
"It is wonderful to see Sue's legacy live on and that this quirky, joyous, turbo-charged, home-grown new musical has been embraced so whole-heartedly by audiences at home in Leicester and London."
A much loved story…
The Secret Diary of Adrian Mole Aged 13¾ was Townsend's first novel and was originally published in 1982 by Methuen, but is now published by Penguin Books.
It has sold more than 20 million copies worldwide, been translated into 30 languages, and spawned seven sequel Adrian Mole novels. The novels have previously been adapted for the stage, radio and television.
The Townsend family said: "Sue loved West End theatre, and she loved working with Jake and Pippa on the creation of this show. We're very happy for her and Mole that 30 years after his last appearance, a new generation has brought him back."