The tour operator has launched a new trip for schools looking to organise a trip to northern France.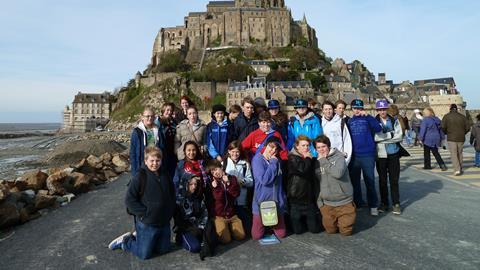 The six-day Normandy Adventure, which was trialled last year, promises a "superb mix of fun activities and French cultural experiences."
Based at the Voyager Camping Village at Les Peupliers, a quiet, car-free area of Les Mielles, it's a short distance from the beach at Annoville.
The programme offered by Voyager School Travel (VST) and delivered by fully qualified instructors, includes a variety of activites such as kayaking, paddle boarding, pêche à pied, sand-yachting and high ropes.
The activities are combined with cultural visits, including a trip to a local market, and evening events. School packages include return coach and ferry and five nights' full-board.
Sample excursions
Bay walk to Mont st Michel: Built in the 11th century, the Abbey is a feat of medieval architecture offering panoramic views over the bay. An expert French native guide will keep the pupils on course, while noting the local flora and fauna, pointing out the points of interest and explaining about the famous salted sheep.
Oyster and Mussel Farm: Normandy is one of the leading oyster and mussel production regions in France; students will be taken on a guided tour of a farm to see how it's done and they'll also be given the chance to sample them.
French Market trip: A staple of French culture, the markets are lively and colourful affairs selling a variety of local produce. It's a chance for students to practise their French as well as pick up some souvenirs.
VST says the trip is best experienced by Key Stage 3 pupils and is ideal for Year 8 students and preparatory school leaves.
About Voyager School Travel
The privately-owned tour operator runs a number of destination-led tours as well as specialist education tours including Battlefields and Language Immersion trips. It offers bespoke and flexible itineraries as well as French language immersion specialists and its Adventure programmes in France and Spain.