Blists Hill Victorian Town is one of the 10 award-winning museums in the heart of the Ironbridge Gorge World Heritage Site.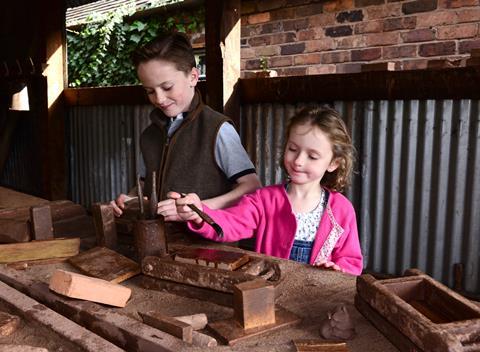 Itinerary: Victorian Crafts and Activities
Provider: The Ironbridge Gorge Museums, Telford, Shropshire
Subjects: STEM, History and Arts
KS: 2
The open air museum depicts how life was lived in small rural communities at the end of Queen Victoria's reign.
Teachers can pick from a huge range of workshops, activities and self-led visits at the town, which are all linked to the National Curriculum.
10am: Arrive and watch an immersive audio visual experience, on huge screens with a booming soundtrack, to set the scene. Teachers and pupils will have time to find their bearings and orientate the 52-acre museum site.
10:30am: Youngsters are split into groups to explore the Victorian town and rotate in a variety of fun hands-on activities. All pupils will take part in brick making, candle dipping and laundry workshops during their visit. Following a demonstration students will create a small brick using traditional tools and methods, and will learn about child labour, piece work and working conditions in Victorian times. They can take their un-fired brick home, with instructions for firing or air drying and varnishing. The other group will visit the wash house for an interactive laundry demonstration using a fire-heated copper, water pump, dolly tub, mangle and overhead drying rack. Pupils will be encouraged to help and afterwards discover how ironing was done before electricity.
12pm: Packed lunch in the indoor lunch area or in one of the town's gardens on sunny days. Alternatively, schools can pre-order lunch boxes from the cafe or tasty chips from the Fried Fish Dealers.
12:30pm: In this final workshop, which is always a favourite, pupils learn about the history of candle-making and make their own colourful striped candle. As they dip their candle into the wax they learn about the properties of wax and principles of colour mixing.
1:45pm: Pupils explore the recreated Victorian Town and meet interesting tradespeople. Everyone loves the heavy horses and using Victorian token coins to buy treats in the sweet shop!
2:30pm: Depart.
Contact information:
01952-435900
www.ironbridge.org.uk/learning