A new digital art gallery is set to open in Coventry as part of the UK City Of Culture celebrations, with schools invited to book special slots to experience 360-degree cinematic views of futurist images.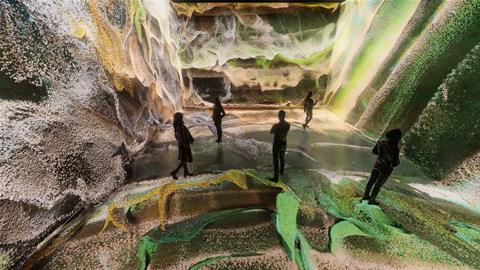 The Reel Store in Coventry is said to be the UK's first permanent immersive digital art gallery and aims to become a key visitor attraction in the heart of the city.
The space, which is set to open on 13th May, will feature innovative experiential art commissions and will be a prominent feature of the City of Culture programme.
As part of the launch, schools are being invited to book slots and experience the inaugural Machine Memoirs: Space exhibition, with options for school groups available on Wednesday and Thursday mornings.
Martin Sutherland, chief executive of Coventry City of Culture Trust, described the new gallery as a "hugely exciting venture".
He added: "We are delighted that our partners have backed the vision for this permanent new visitor attraction, transforming old media into new media, as part of the legacy of our year as UK City of Culture."
Exhibition highlights
The gallery's first major exhibition, Machine Memoirs: Space, will provide a 360-degree cinematic experience of futurist images accompanied by 3D audio, allowing visitors to encounter the spectacle of space science as created through artificial intelligence (AI).
Created by artist Refik Anadol in collaboration with NASA, children will see two million images of space taken by NASA satellites and telescopes as part of a new digital interpretation of space.
The new gallery will continue to showcase innovative and experiential art commissions and will be a prominent feature of the City of Culture programme in Summer 2022.
UK City of Culture
Coventry was awarded the UK City of Culture 2021 title for 12 months. The competition is held very four years and each winner is given the opportunity to run a host of arts and cultural activities.
Machine Memoirs: Space runs from Friday 13th May and will offer free tickets to selected schools. To make an enquiry or to book a visit, call 0800 358 0058 or go to www.coventry2021.co.uk.