Science and discovery centre Techniquest, has announced a series of school shows from September, covering a range of themes such as animals and habitats, the human body and forces.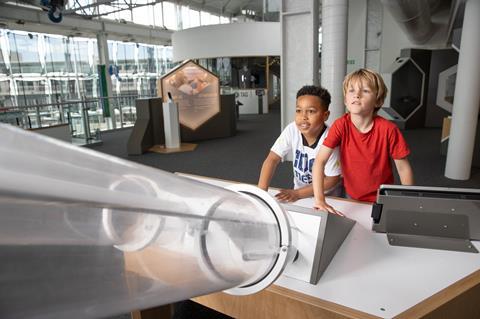 Set in the heart of Cardiff Bay, Techniquest has been hosting school trips for decades and was the first Science Discovery Centre ever to be established in the UK back in 1986.
The education team has created these shows to inspire children from EYFS, up to Key Stage 3, with a range of scientific topics, running from Wednesdays to Fridays each week during term time.
Shows are currently scheduled up until the end of December, with more to be announced in the new year. All involve an interactive experience created and presented by the team. The shows on offer are:
The Human Body Show, KS2 (7th – 23rd September)
Our bodies are weird and wonderful things. Join the team as they explore the human body inside and out, to find out what the different parts do.
All About Me, EYFS/KS1 (28th – 30th September / 5th & 6th October)
Help Techniquest's friendly dragon, Delyth, explore the human body and senses at a funfair, completing challenges and puzzles along the way.
Animals and Habitats, KS2 (12th – 21st October)
How do animals survive in so many different places? Pupils will learn about some different animals and the adaptations that help them to survive.
Mathemagic, KS3 (26th – 28th October / 9th & 10th November)
Maths is used everywhere, from tiny microchips in computers to helping us understand our vast universe. Students will uncover the magic of numbers and solve mysterious maths puzzles as part of this experience.
Dino Detectives, EYFS/KS1 (16th – 25th November)
Pupils can hop in the Techniquest Time Machine and hunt for clues left by the dinosaurs and help Delyth track down a Stegosaurus.
The Forces Show, KS2 (30th November / 1st – 9th December)
Discover how the small event of an apple landing on Sir Isaac Newton's head, has helped us understand many of the forces in our world.
Elf and Safety, EYFS/KS1 & KS2 (14th – 21st December)
Join the centre's 'elf and safety' inspector as they check out some new inventions to see if they're safe for Santa.
More room for top activities
The site has recently been extended to include the Science Capital zones, catering for a much wider age range than was previously possible.
Both primary and secondary school pupils can enjoy a visit and learn more about science, technology, engineering and mathematics in a hands-on environment.
The newly-extended centre provides around 60% additional floor space attached to the original glass-fronted building. It brings together areas that focus on Space, the Environment, Chemistry, World Issues and a Biomedical zone, in addition to many old favourites in the Retro section that previous visitors had enjoyed over the years.
With over 100 interactive exhibits to engage with, curriculum-linked shows in the Science Theatre and star tours in the Planetarium – plus Wednesday workshops in the newly refurbished Lab, to be introduced from the autumn term – teachers can choose their experience based on the needs of the group.