A fully interactive environment for inspiring pupils' active imaginations, Shrek's Adventure! London brings storytelling to life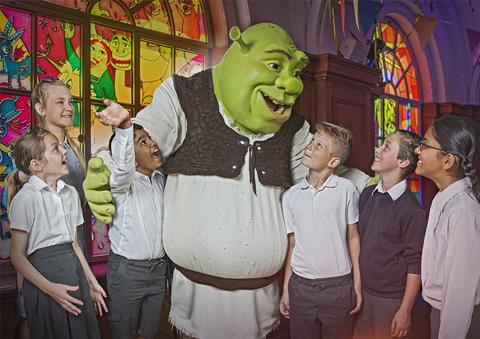 Itinerary: Step into story construction
Provider: DreamWorks Tours: Shrek's Adventure! London
Subjects: English
KS: 1&2
Pupils can board a magical 4D flying bus to Far Far Away and embark on a thrilling adventure through ten stimulating live shows. Aided by famous fairy-tale characters, pupils will find themselves working together to discover three magical ingredients to help find Shrek and outwit the evil Rumpelstiltskin.
The newest chapter in this unique experience features a brand new schools room and new KS1/KS2 English workshops focusing on story composition, exploring character development and performance. An optional part of the experience, a workshop is £2 per pupil. Term time schools admission is from £6 per pupil.
10:30am On arrival the group leader will need to collect their pre-booked tickets from the box office to check-in your group for their adventure to Far Far Away! Pupils will then make their way through the departure lounge and board the 4D magic bus! With Donkey as the tour guide, this school trip is going to be an exciting ride…
11:00am Oops… sorry Donkey has landed the magic bus in an unexpected location - it's Shrek's Swamp! But hey - there's Cinderella! Maybe Cinderella knows where you can find Shrek who will help you get back to London? She recommends you pay a visit to Esmeralda and her crystal ball. Who do you see? Shrek!… and Rumpelstiltskin who's up to his old tricks! Beware! But don't worry your furry friend, Puss in Boots, is here to help you get the secret ingredient for a magic spell to get you home! But first you must face the The Wheel of Torture! That 'real' wooden boy is spinning around but he can help by giving you an EXPLOSIVE end to this Game Show! Answer a series of questions to help free Pinocchio! After continuing your journey and braving the Mirror Maze of Insanity, you're in luck as Gingy's got a sugary plan up his sleeve! Time to cook up that magic spell in the Muffin Man's bubbling cauldron and get your class back to London!
11:45pm Look whose waiting for you upon arrival.. Shrek! Hurry he is waiting to meet you in the arrivals hall!
12:00pm At this point if you have booked a workshop and timings allow it you can picnic in Shrek's swamp (the schools room!). Otherwise, weather permitting, we recommend Jubilee Gardens by the Coca-Cola London Eye on exit post the workshop.
12:45pm Remaining in Shrek's Swamp meet our schools host who will deliver either your KS1 'Once Upon a Time' story starter workshop focusing on the sequencing of events and identifying with characters through role play. Or for budding story tellers the KS2 workshop which will delve deeper into the role of character feelings, thoughts and motives and the triumph of good over evil.
13:30pm Before you leave venture through Madagascar, Berk and the Valley of Peace and catch-up with Shrek's DreamWorks friends!
Contact information:
www.shreksadventure.com/london