Chessington World of Adventures has announced the arrival of its latest development, 'Shipwreck Coast', transporting visitors to a disaster ridden harbour town which includes two new rides.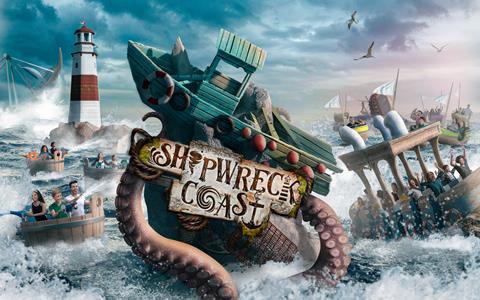 Open from 15th July, the theme park in Surrey says that the two new rides, Trawler Trouble and Barrel Bail Out!, will immerse pupils in the wild, wet and windy shores of this new land of adventure.
Children will need to help the harbour master in Barrel Bail Out!, as they jump into barrels trapped in a whirlpool and help empty them of water, while further up the coast, the captain of a trapped fishing boat needs help getting it freed in Trawler Trouble, featuring choppy waves and spins.
In late June, Seastorm reopened as part of the first wave of this development following a full refurbishment, with young people reboarding the spinning miniature galleons. Blue Barnacle, which opened in April 2021, continues to transport riders through the high seas.
Shipwreck Coast takes inspiration from coastal harbour towns with nautical theming such as lighthouses, boats, sails, fishing nets and anchors taking prominence.
Bagot goats will also be making their home in the hills around Blue Barnacle and rats will be found in a new enclosure around the entrance to Trawler Trouble.
That's not all, as the Mayor of Shipwreck Coast's prized fish has gone missing and is calling upon pupils to help crack the case and catch the codnapper, meeting the quirky residents who inhabit the town along the way.
Kevin McIlmurray, head of guest experience, said: "Our team have taken the much-loved Pirates' Cove land and transformed it into this incredible harbour town, Shipwreck Coast. With stormy shores part of the everyday and adventures for all the family around every corner, we can't wait to see our guests experience it, and of course meet our new resident animals."
What can school trips to Chessington include?
Teachers can combine a visit to Shipwreck Coast with one of 12 educational workshops, covering a range of subjects for Key Stages 1-5.
Just one example includes Rides in Action for KS3 students which involves a guided walk around the park and an interactive talk about how the team utilises different mechanical systems and forces to operate each ride.
School trips also come with free resources for teachers to make the most of the visit.