The learning team at Shakespeare's Globe in London has said it is hoping to resume limited activity with schools on-site from 12th April onwards.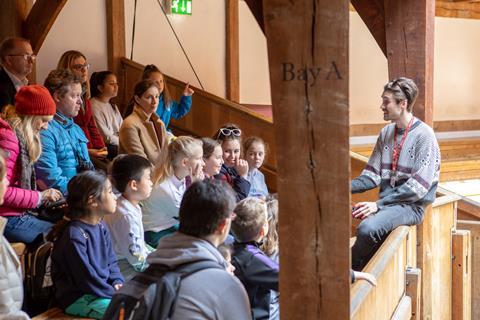 Up to 35 pupils can be accommodated per group, but the team can also run several sessions simultaneously or consecutively if necessary for a Lively Action workshop.
The workshop, which is adaptable for both primary and secondary aged children, consists of a 30 minute guided tour of the Globe theatre, followed by a 60 minute practical drama workshop, which can be focused on any Shakespeare play.
It is described as a practical, interactive session which is led by the attraction's education practitioners which involve a range of exercises, activities and games designed to understand the text at word level, as well as characters, context and themes.
Neil Constable, chief executive of Shakespeare's Globe, said: "Closing the Globe last year was a truly awful experience - none of us wanted the pandemic to be a reality, but in the face of public safety we of course did what was needed.
"Over the past year, we have expanded our digital offering and have loved seeing our work reach international audiences like never before. We have played our part supporting families and students at home with a huge array of events, workshops for all ages and stages.
"We are ready to recover and are delighted to open those wooden doors into our marvellous outdoor theatre and get back to providing world-class culture to everyone."
The site will be operating a reduced capacity for the foreseeable future so booking early is advised. The team's main aim is to make the work of Shakespeare accessible for three to 19-year-olds, whether it be on-site, via Zoom or in school.
Shakespeare Boost
Additionally, the Globe's online offerings will continue, including Shakespeare Boost - a new series of online workshops for GCSE and A-level students.
From 12th to 16th April, the workshops supporting GCSE and A-Level students will aim to charge up their understanding of set texts which will be released as 'pay what works for you' to ensure the workshops are as accessible as possible.
Led by a Globe practitioner, each two-hour session is said to provide participants with strategies to respond to questions in their final assessments. There will be sessions on Macbeth and Romeo and Juliet for GCSE, and Othello and Hamlet for A level.
If schools would like to make a visit booking, they can do so by submitting an online request here. The team will then respond to this with a booking confirmation and invoice as soon as they are able to confirm the arrangements of your visit. More information on all of the Globe's educational offers can be found at www.shakespearesglobe.com/learn.